A Sustainability Ranking in partnership with
ETIC Hotels
You're planning a trip to the Caribbean and you're trying to be as ethical and sustainable as possible?
niood lists you the 10 most sustainable hotels in the Caribbean:
1.
True Blue Bay Boutique Resort, Grenada
From $200 per night

ETIC Hotels Green Score: 9.5/10
What makes True Blue Bay Boutique Resort sustainable?
One of the things you will notice during your visit is that our staff wear locally-made reusable masks that we wash and disinfect at the Resort as well as their aprons and uniforms. We have trained our staff to constantly wash their hands so we don't have to use plastic gloves. We have an electric bus charged with PV solar panels to transport our guests and staff. Our organic food waste either goes to our onsite compost or to local pig farmers. All our garden waste is composted and the material used to fertilise the hotel grounds. We have a small plantation of banana trees, fruits and veggies that love the composted material (soon this garden will be accessible to our guests to visit or to work alongside our gardener).
Please be assured that we will continue with our philosophy of taking care of the environment using eco-friendly products throughout the pandemic. Environmental sustainability continues to be at the heart of our operations.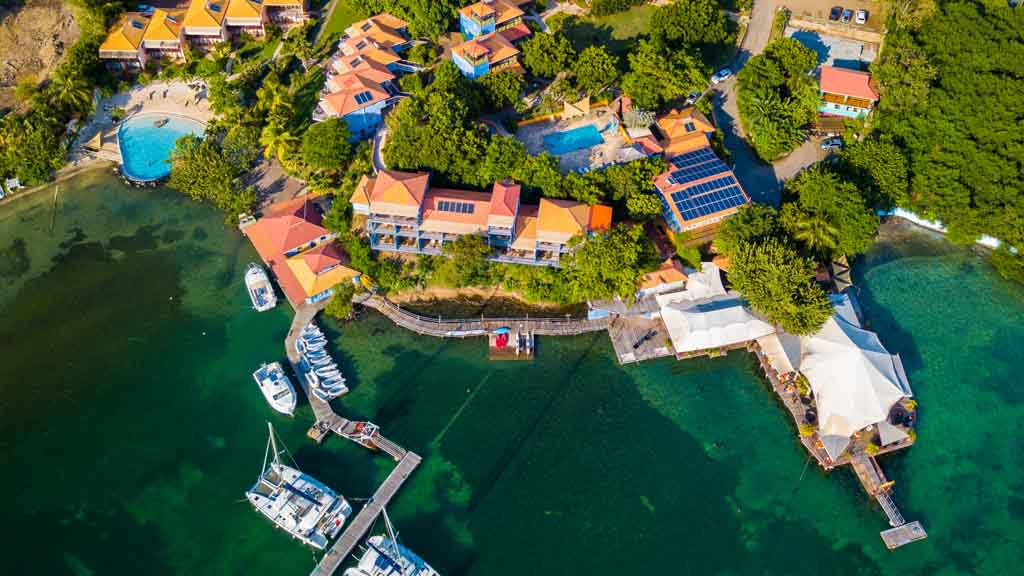 2. Jungle Bay Resort & Spa
Saint Patrick Parish, Delices, Dominica
From $200 per night

ETIC Hotels Green Score: 9.5/10
What makes Jungle Bay Resort & Spa sustainable?
The resort's design is very creative in utilizing local materials and preserving the local landscape.
Jungle Bay reduces its carbon footprint by approximately 30-40% compared with traditional resorts.
Jungle Bay overlooks the Soufriere Scotts Head Marine Sanctuary so is active in biodiversity conservation of this fragile marine ecosytem.
One of many examples of stewardship is being a major contributor to a book of "Plants of Dominica's Southeast" published in partnership with the South East Tourism Development Committee (SETDC), UNESCO and local botanists.
Works with community members to facilitate trails to be stewards of the environment and run beach cleanups to reduce the chance of sea turtles being strangled by trash while educating communities about sea turtle conservation.
Guests receive a re-usable water bottle decreasing our use of disposable bottles.
The resort strives to manage waste, energy use, and other techniques ensuring limited disturbance of the ecosystem – reducing environmental and social impacts in all areas of the operation – through continuous monitoring and evaluation.
Jungle Bay is one of the few properties certified at the highest level for sustainable tourism & quality standards with Dominica's Nature Island Standards of Excellence (NISE)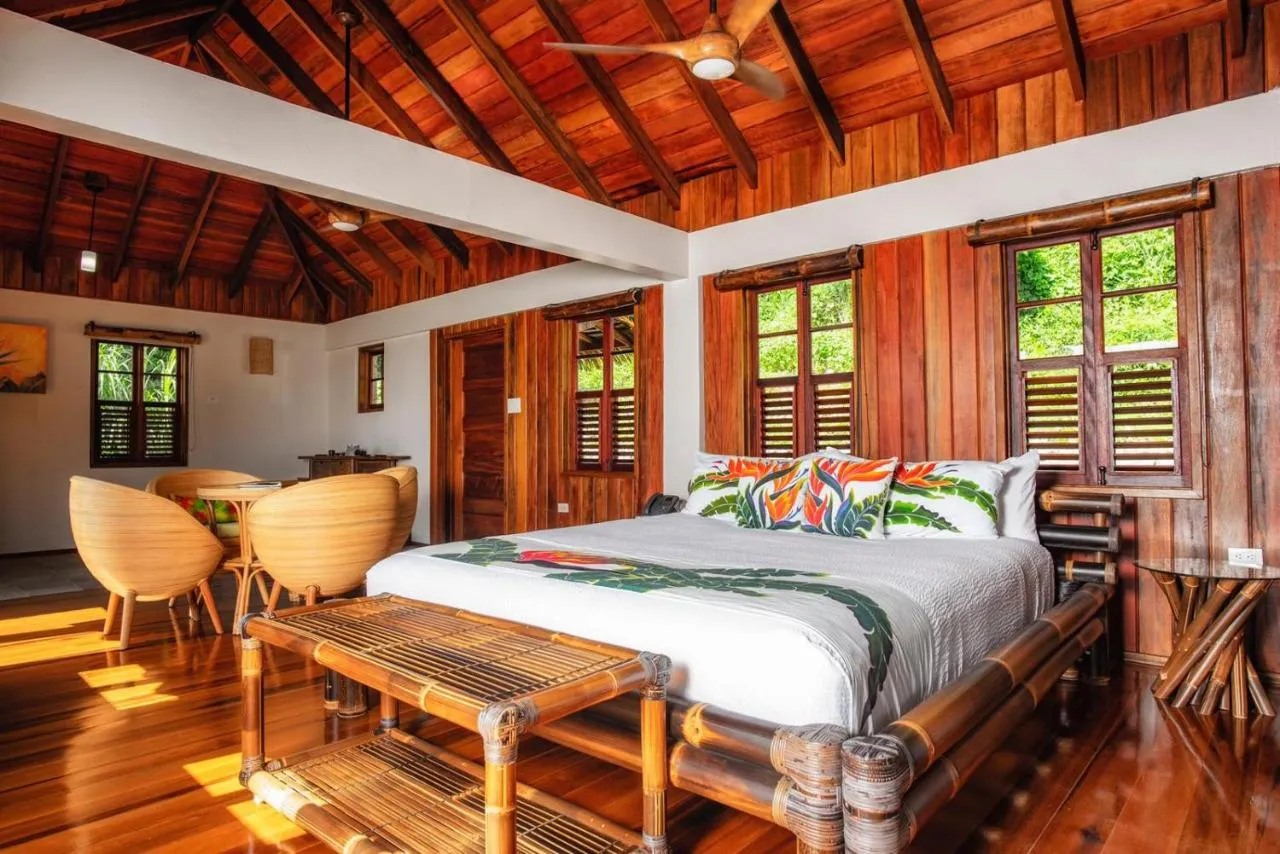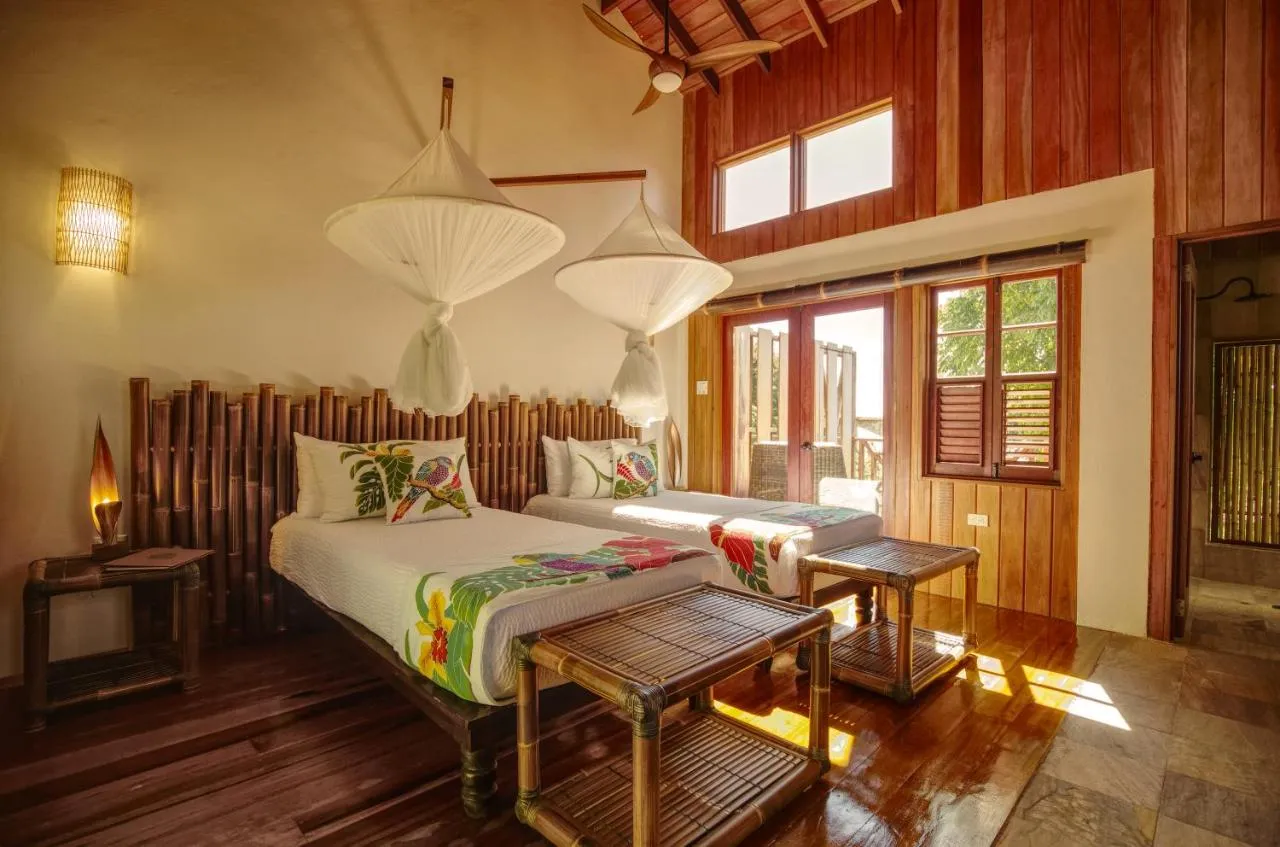 3.
Fond Doux, St. Lucia
From $200 per night

ETIC Hotels Green Score: 9.5/10
What makes Fond Doux sustainable?
Power and Water Conservation
Water in the cottages is heated through solar panels to conserve power. Other power and water conservation efforts include energy efficient lights, low flow toilets, and the option to reuse linens and towels.
Locally Owned and Operated
Owners Eroline and Lyton Lamontagne are from Saint Lucia and run the plantation themselves. They work with local communities to train and hire St. Lucians at Fond Doux with an emphasis on developing individual skills and gifts.
Supporting Local Industry
As part of our sustainable practices we fill our gift shop with goods from local suppliers. Similarly, we ensure the tour operators that we refer our guests to use local suppliers and emphasize St. Lucian culture.
4.
Petit St. Vincent, St. Vincent
From $1,100 per night

ETIC Hotels Green Score: 9.5/10
What makes True Blue Bay Boutique Resort sustainable?
All of the power on the island is supplied by a soundproof, energy efficient diesel generator. It not only ensures our power supply stays reliable, but will always exceed demand.
5. Castara Retreats
Castara, Trinidad & Tobago

From $140 per night

ETIC Hotels Green Score: 9.5/10
What makes Castara Retreats sustainable?
We have employed local people to build and create Castara Retreats. Whilst the style of the accommodations is unique, we ensured the construction process derived from local labour, materials and practice. Some 40 people from the village helped build Castara Retreats, and take pride in what they have helped achieve.
We have undertaken extensive tree and shrub planting to maximise soil retention and avoid the risk of soil erosion and landslides. Paths with drainage systems have been constructed to ensure the safe run off of water from our land to the highway below.
We have created composting areas used by both our guests and our restaurant for disposing of vegetable and plant waste. The compost is then used for feeding our garden plants and trees, nurturing their growth and development.
Significant attention is given to electricity consumption and the implementation of measures to reduce carbon footprint including; LED lighting , roof and wall insulation, low-energy air conditioning systems, and invitations to guests to be mindful in their energy usage.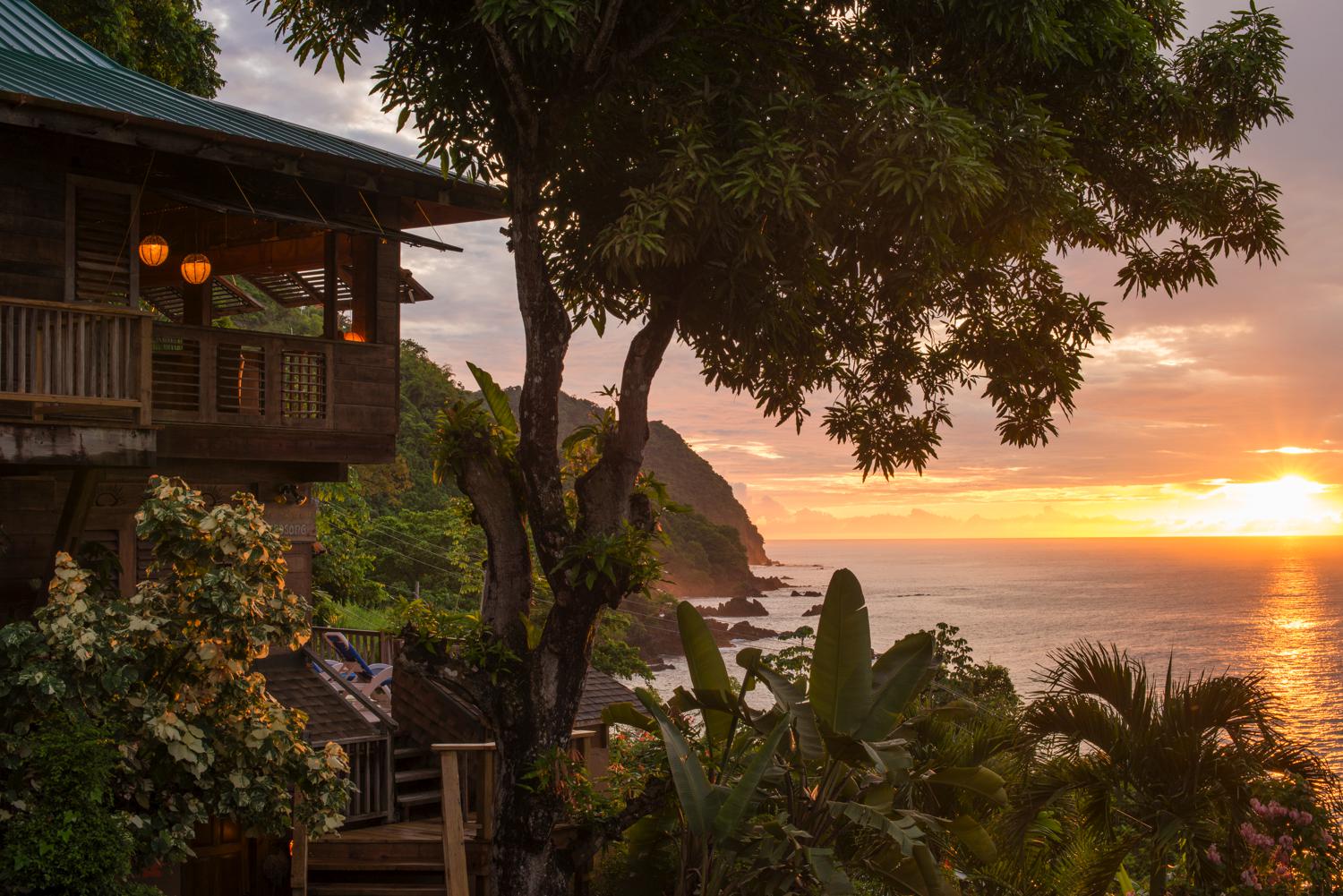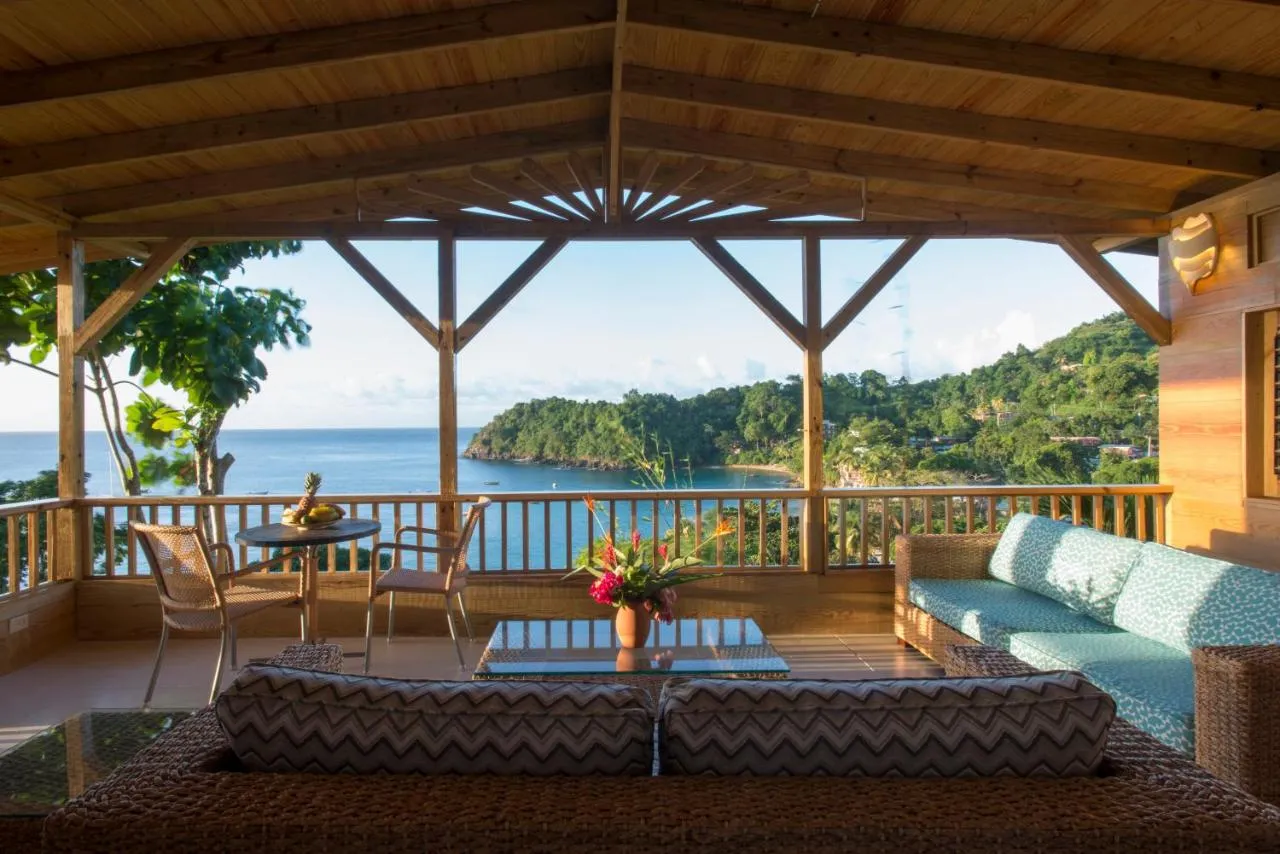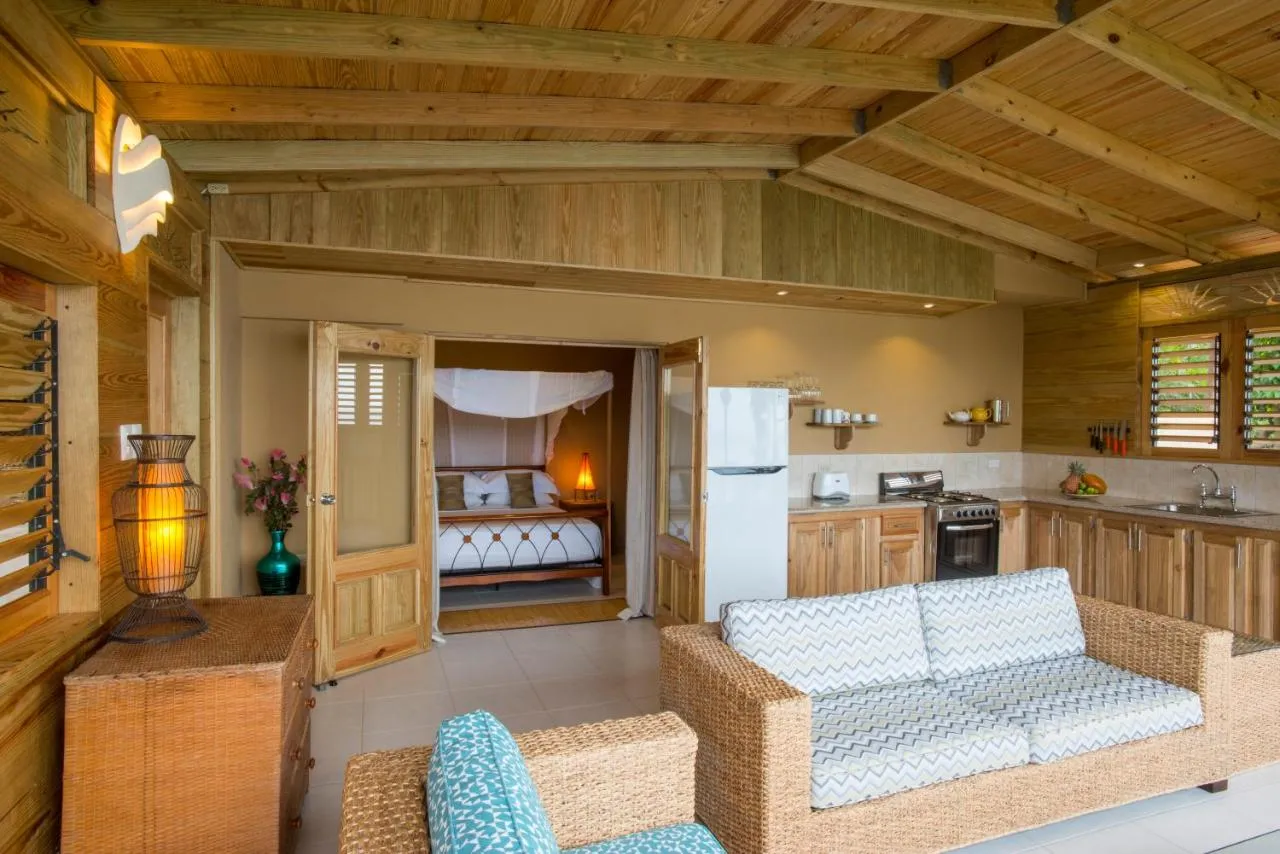 6.
Blue Horizons Garden Resort, Grenada
From $160 per night

ETIC Hotels Green Score: 9.5/10
What makes Blue Horizons Garden Resort sustainable?
Quality boils down to details: That's why we use eco-friendly cleaning supplies, biodegradable trash bags, and more. And with programs like planting trees, birding, and waste management in place, Blue Horizons is taking an active approach to conservation.
Environmentalism means nothing without social responsibility. In addition to our preservation programs, we strive to develop our community. We recruit 100 percent of our employees from nearby towns, offer internships to local students, and partner with the Dorothy Hopkin Centre for the Disabled.
Blue Horizons adopts a proactive approach in our day-to-day activities. We outfit rooms with standard fire equipment, follow cross-contamination protocols in our housekeeping, food, and beverage departments, implement proper business ethics, and more.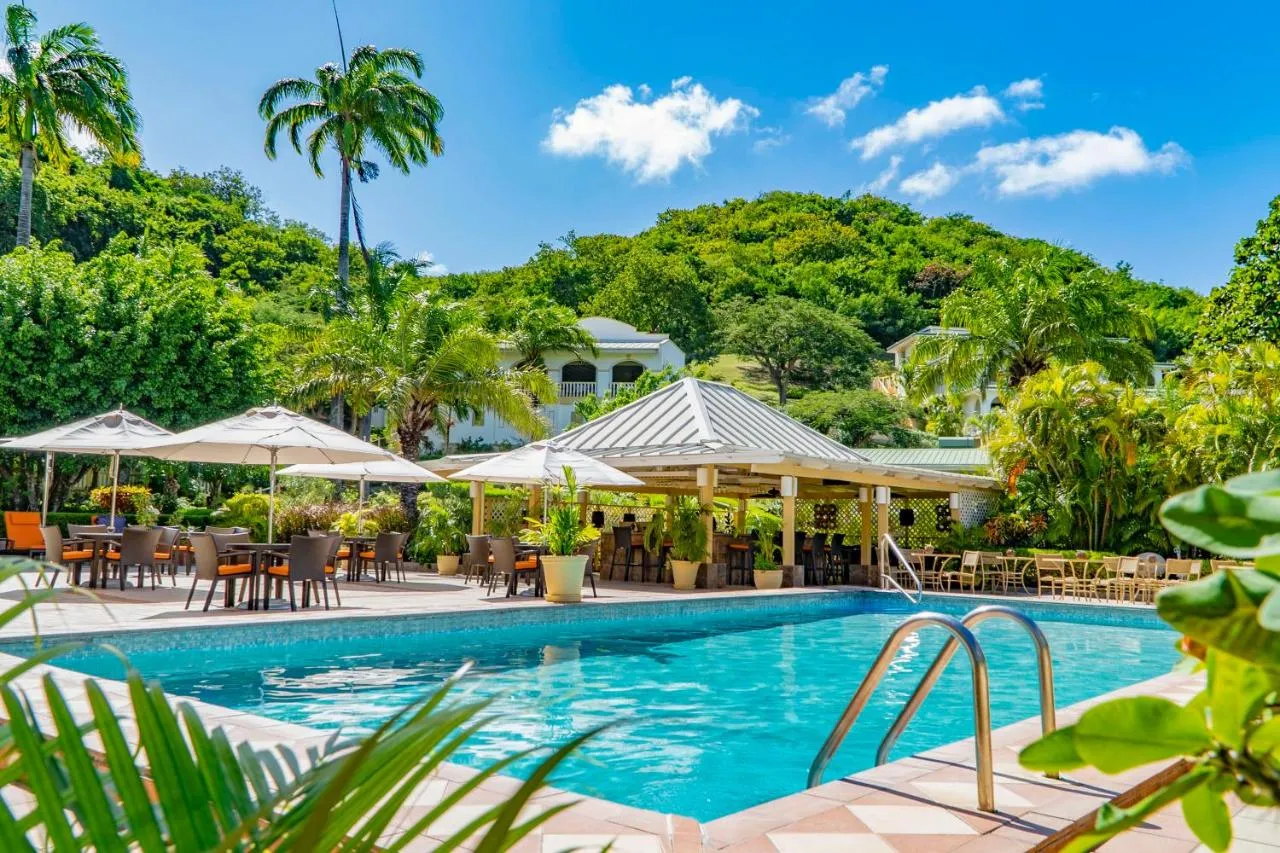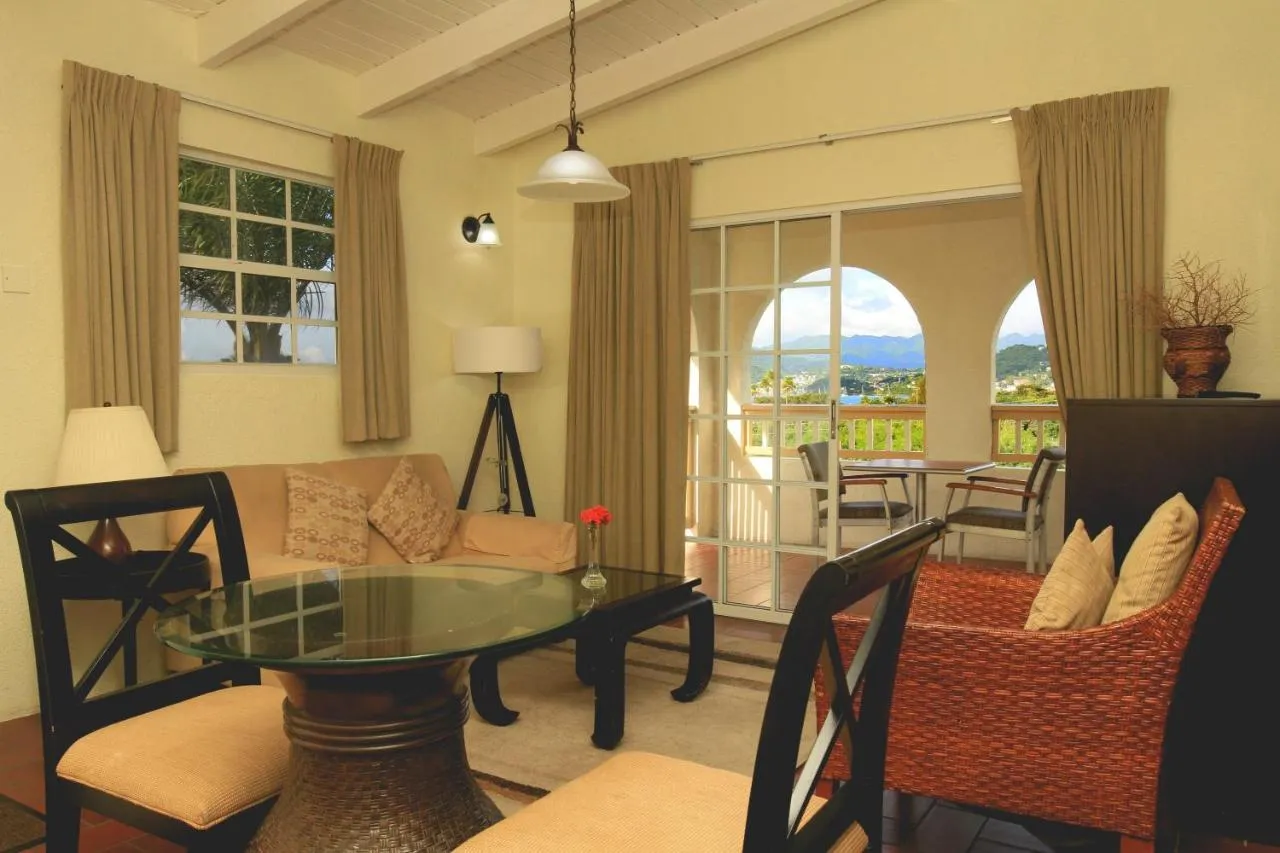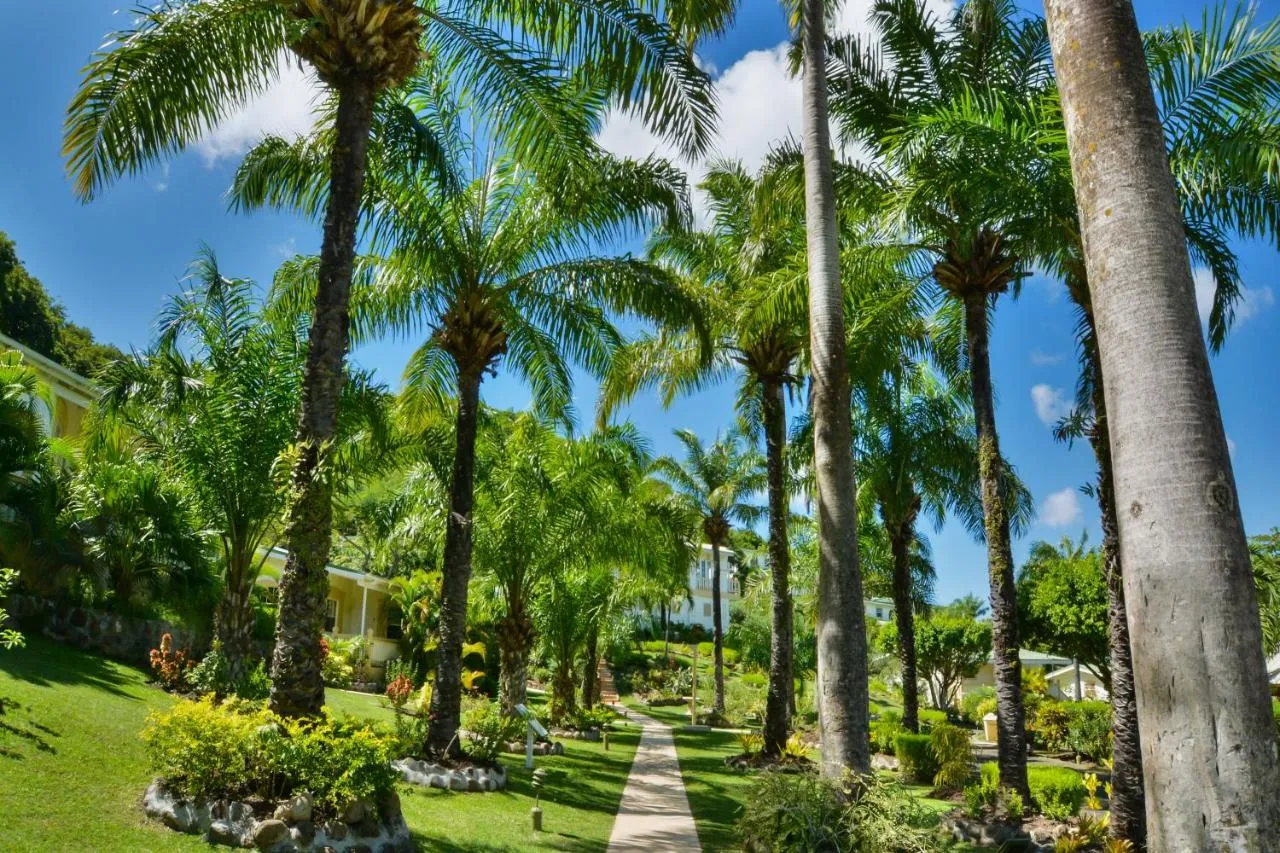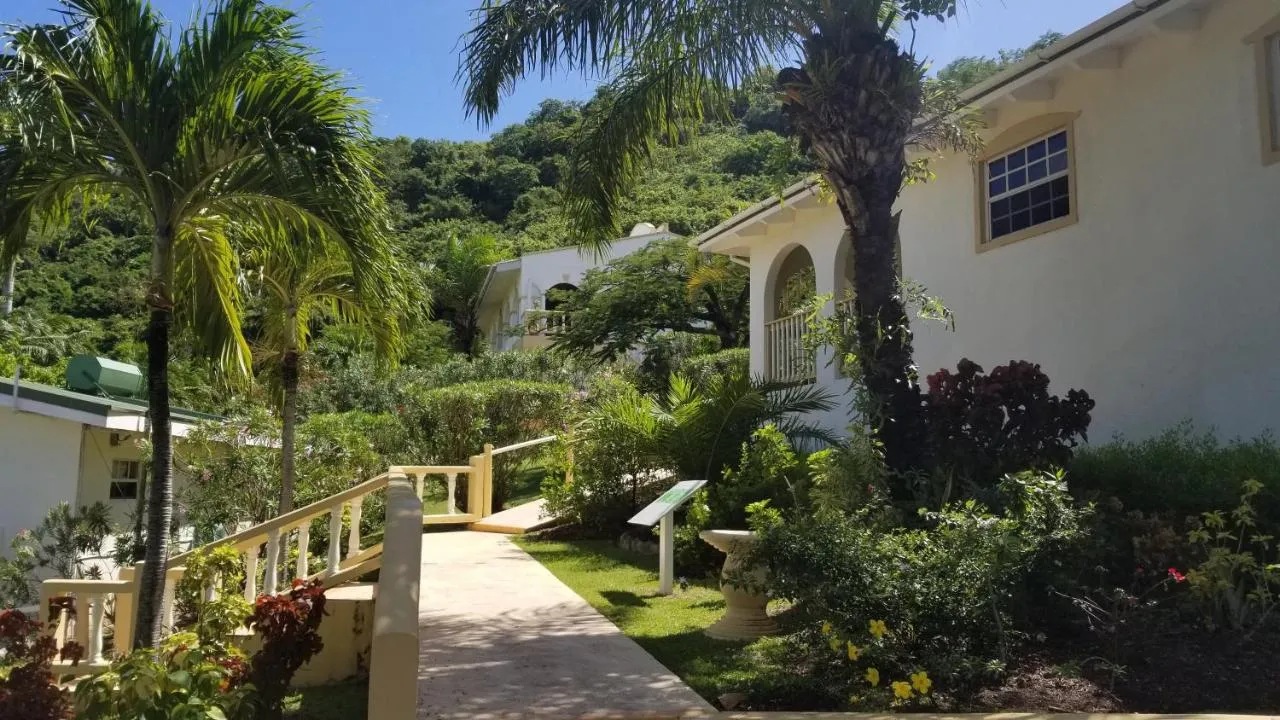 7.
Hotel Manapany, St. Barts
From $700 per night

ETIC Hotels Green Score: 9.5/10
What makes Hotel Manapany sustainable?
The island of St Barth has ideal sunshine throughout the year. in order to make full use of this sunshine, the Manapany Hotel transforms this solar energy to produce hot water.
The resort's water network, autonomous in both its supply and treatment, does not diffuse any wastewater into nature.
We favor using eco-friendly products and methods such as steam cleaning and biodegradable detergents both for the rooms and the laundry.
The resort produces its own water and only electric cars are used to get around the 4.2- acre property. No chemicals are used in cleaning and maintenance, only steam and natural products. All hotel towels are made from bamboo, with only natural fibers.
8. Bucuti & Tara Beach Resort
Oranjestad, Aruba

From $350 per night

ETIC Hotels Green Score: 9.5/10
What makes Bucuti & Tara Beach Resort sustainable?
The resort has been called "a glowing example for all Caribbean hoteliers." Among our many environmental initiatives are:
Switching to greener, eco-friendly types of paper for its resort marketing materials, by which Bucuti & Tara Beach Resort has been able to save 82 trees, as well as reduce waste water by 37,617 gallons, solid waste by 2,315 lb and greenhouse gases by 7,936 lb.
Ensuring we have the lowest per-occupied-room electricity usage of all hotels in Aruba. (Source: Central Bank of Aruba study by Deloitte)
Reducing our carbon footprint by sourcing local suppliers and products made on Aruba.
Solar panels heating water for guest rooms and the laundry.
Water reducers, which cut down water flow by 60% in all showers and faucets, and low-flow toilets.
Sink and shower water treated and reused in the gardens.
Bulk purchasing and use of in-room dispensers delivering genuine Aruba Aloe freshly made shampoos, conditioners and lotions instead of individual packages in plastic containers.
Using biodegradable and environmentally friendly detergents.
Subsidize thousands of spay & neuter surgeries to reduce the problem with overpopulation and abandoned dogs and cats on island.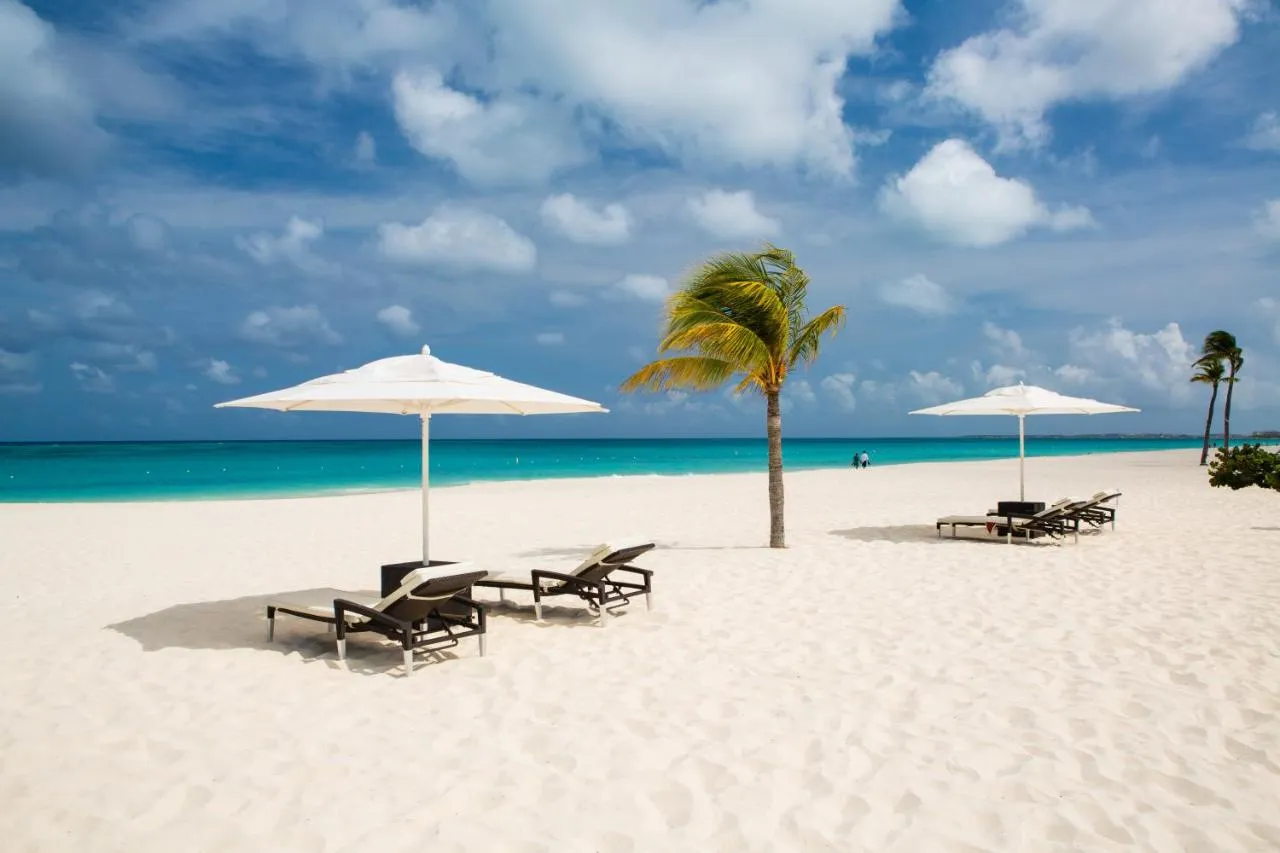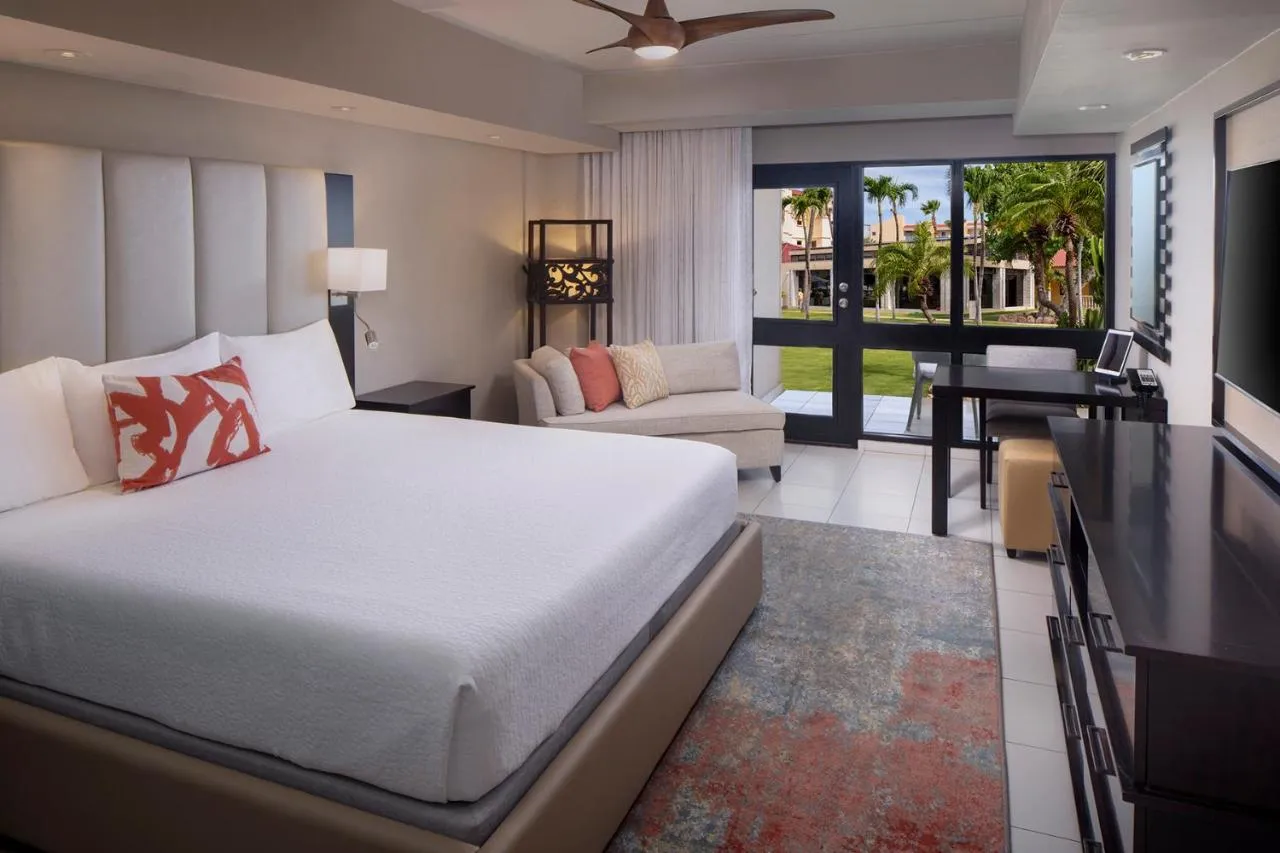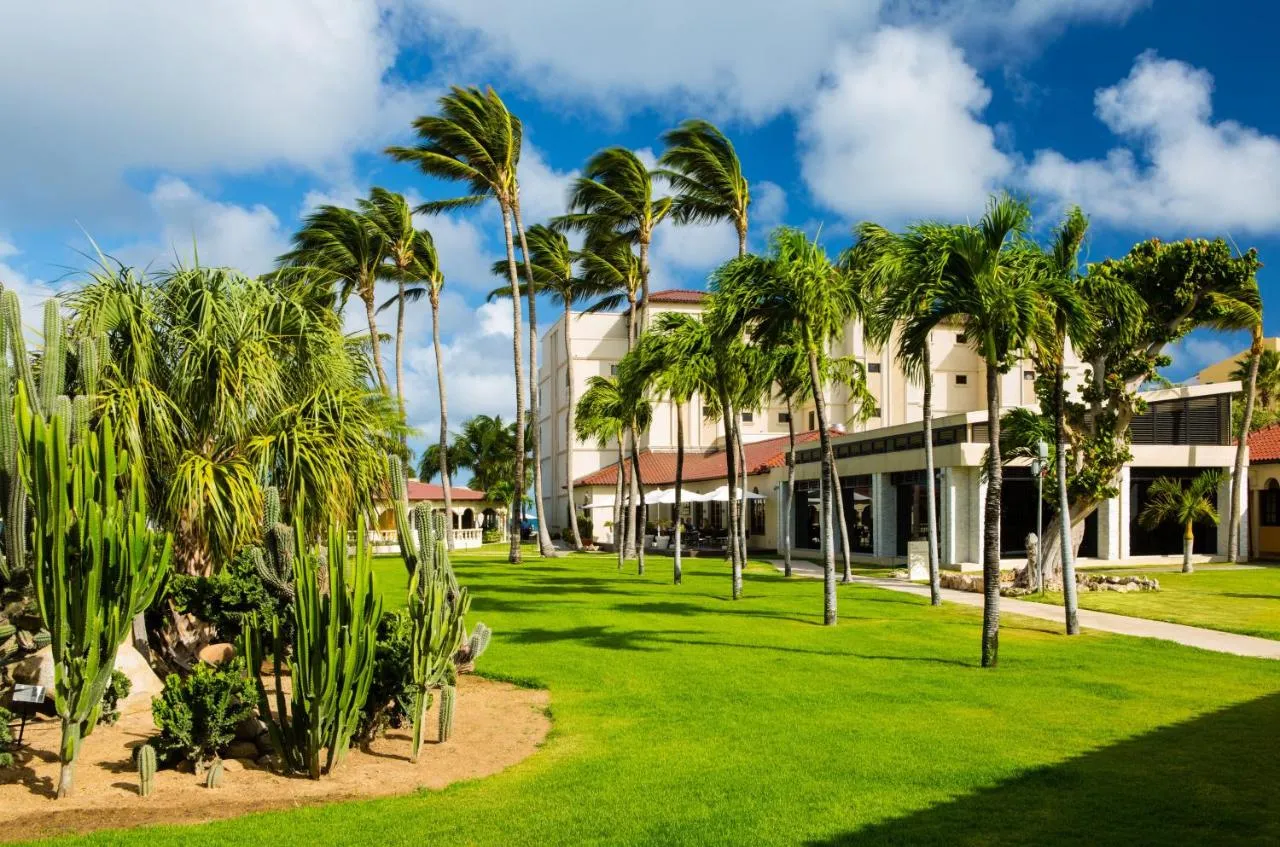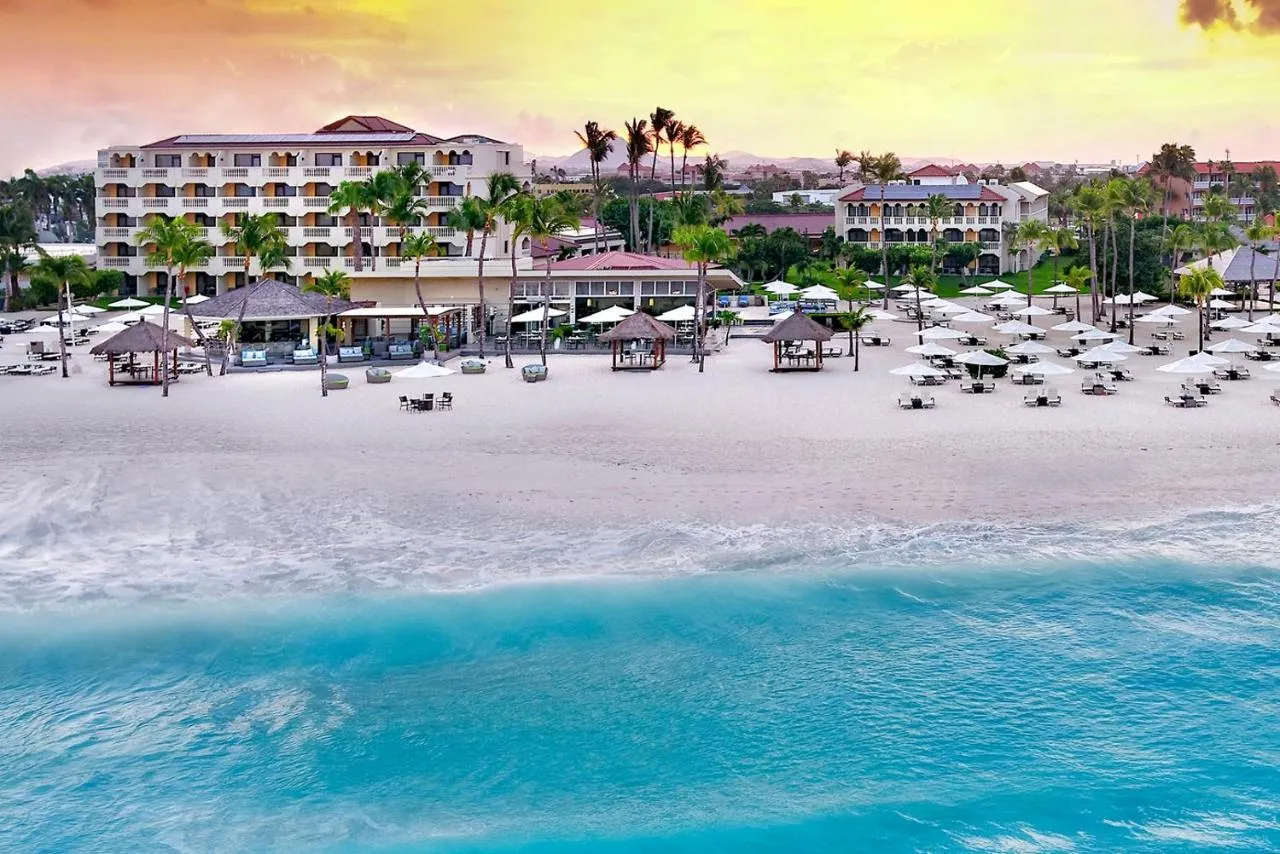 9. Rosewood Tucker's Point, Bermuda
From $500 per night

ETIC Hotels Green Score: 9.5/10
What makes Rosewood Tucker's Point sustainable?
Rosewood Tucker's Point green initiatives include a wastewater treatment plant, solar hot water plant, seawater reverse osmosis plant, thermal solar hot water system (Bermuda's largest installation to date), and the introduction of solar cars on the property.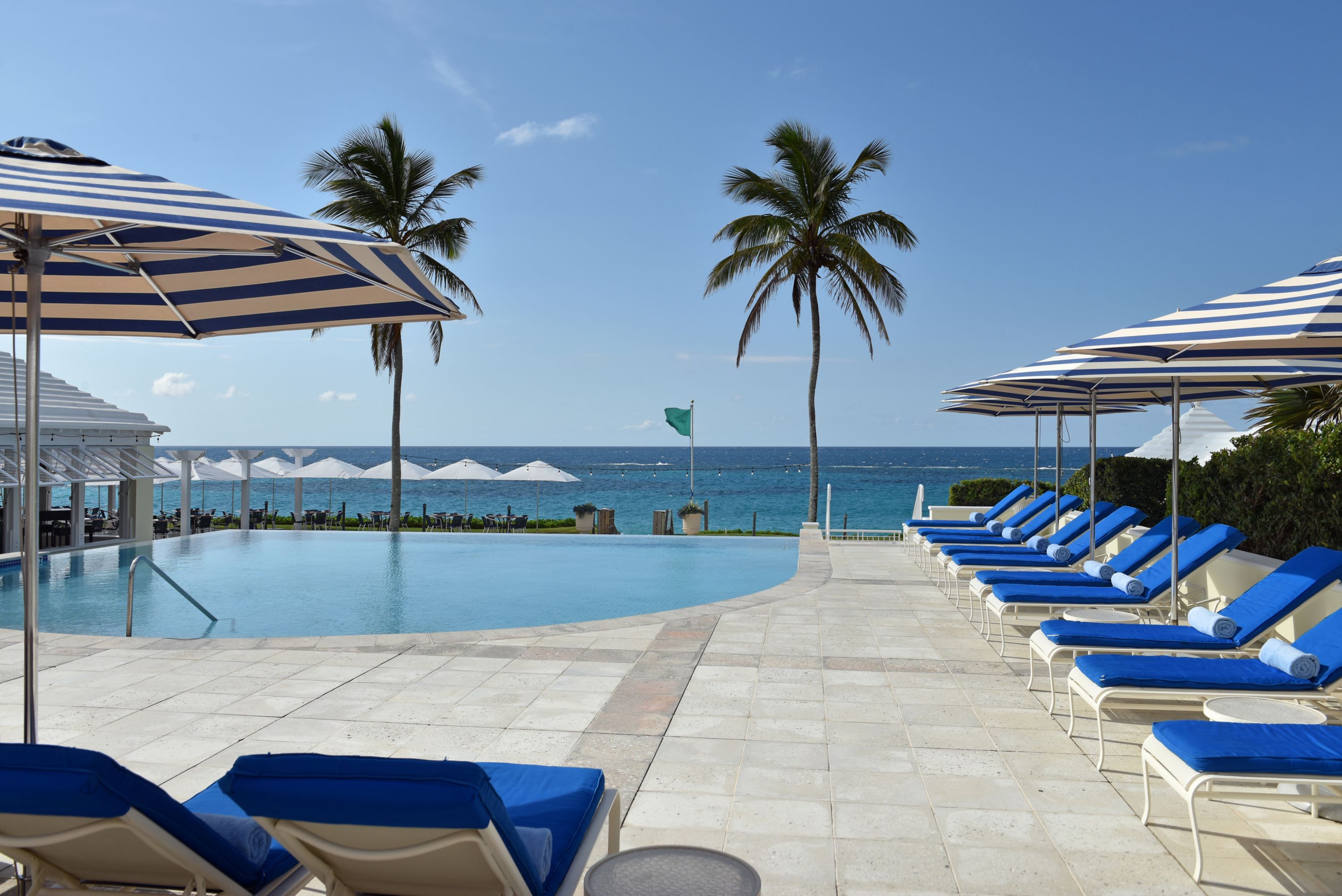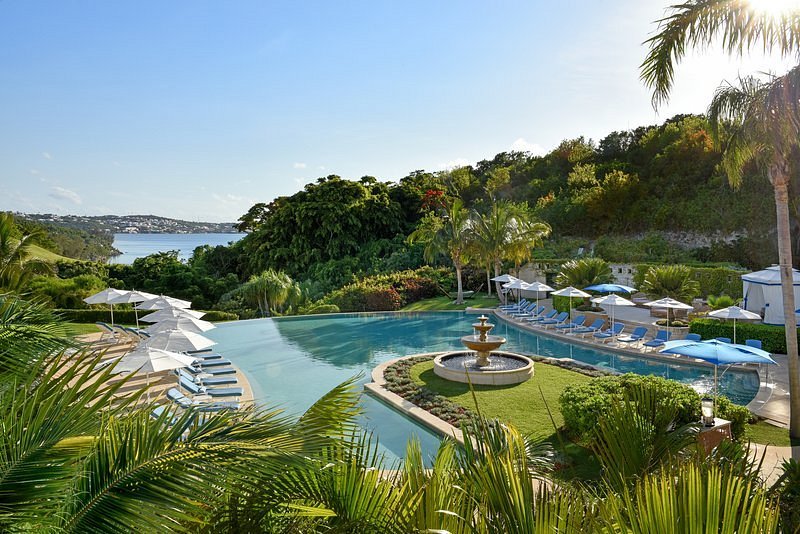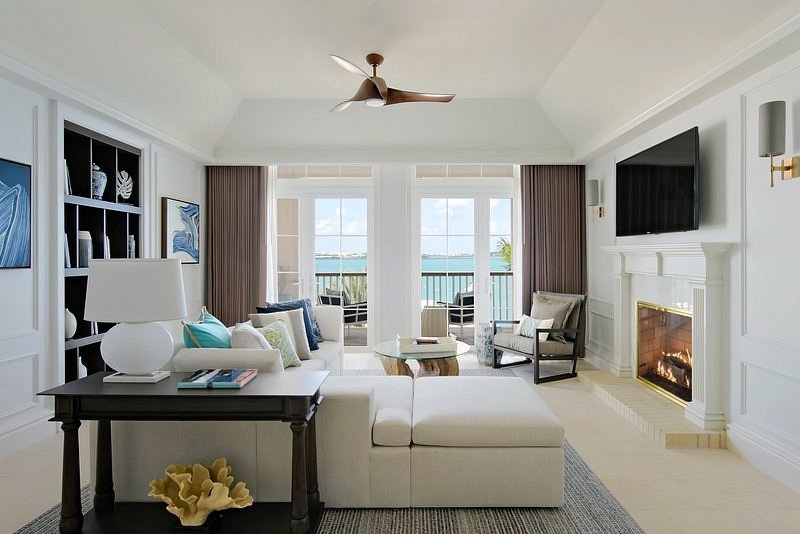 10. Le Guanahani, St. Barts
From $600 per night

ETIC Hotels Green Score: 9.5/10
What makes Le Guanahani sustainable?
Rosewood Le Guanahani St. Barth is committed to creating a unique, luxurious and natural experience that helps to sustain the planet, conserve wildlife and habitats, and reduce carbon emissions. The hotel has developed a long-range plan for preserving and protecting the land and sea surrounding the hotel. The initiative will also create programs that allow guests to get up-close-and-personal with the natural surroundings – from wildlife viewing and monitoring to educational and restoration-oriented activities.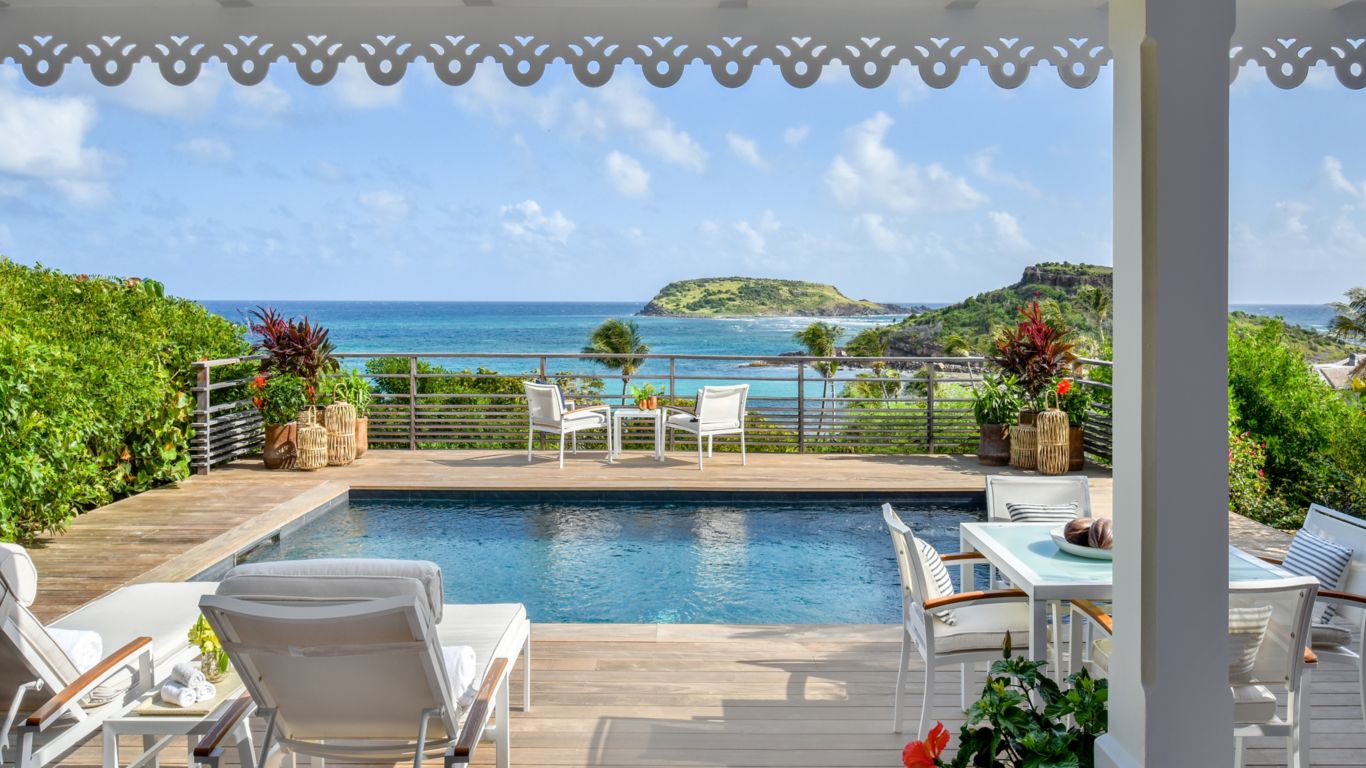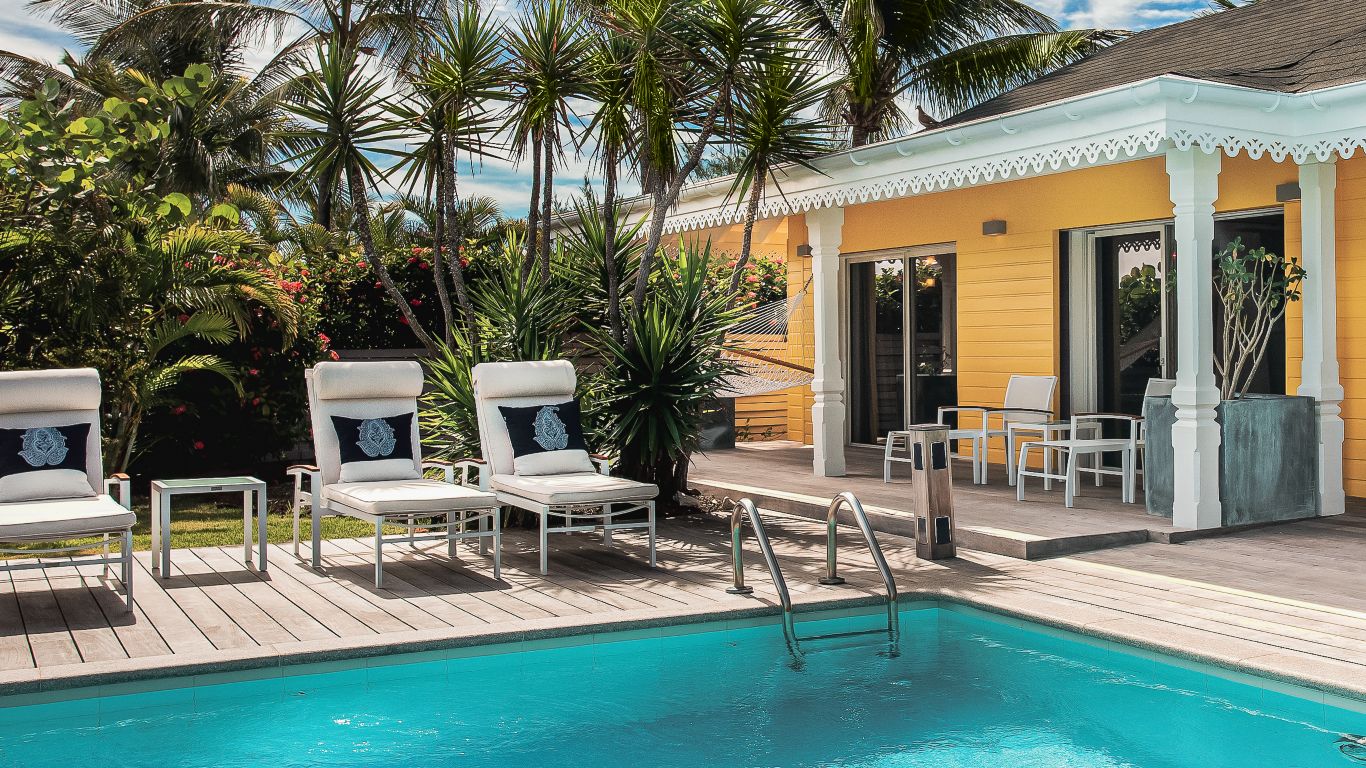 11. Hermitage Bay
Antigua & Barbuda
From $1,400 per night

ETIC Hotels Green Score: 9.5/10
What makes Hermitage Bay sustainable?
We're committed to delivering peace and tranquility in a healthy environment that promotes the natural, from the warmth of the green landscape behind our resort to the flavours of the organic cuisine that we serve in the restaurant.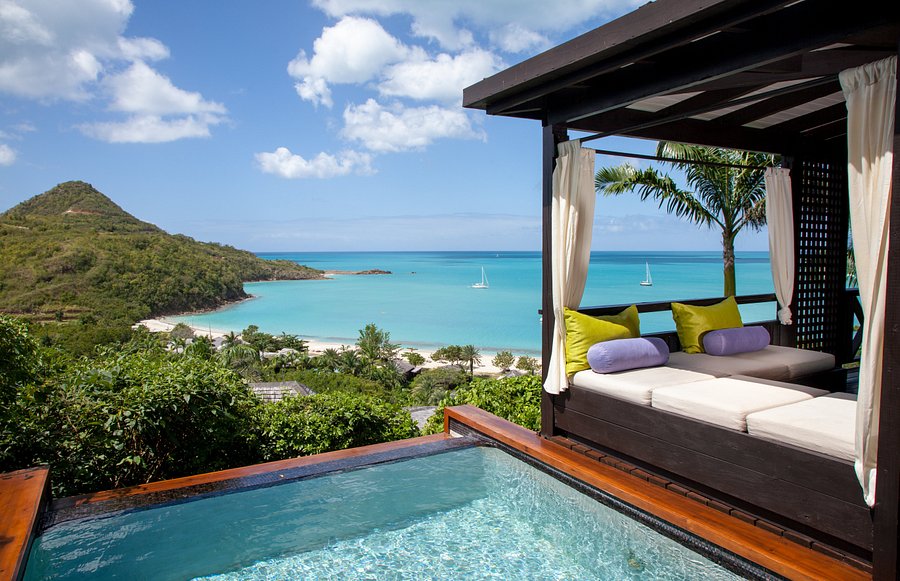 12. Jamaica Inn
Ocho Rios, Jamaica
From $140 per night

ETIC Hotels Green Score: 9.5/10
What makes Jamaica Inn sustainable?
Our commitment to sustainability not only involves the efforts to maintain the White River Fish Sanctuary but includes fosters on going initiatives all throughout the hotel. This also includes the responsibility to spread environmental awareness in our local communities and with guests. We've made a pledge to increase marine life buy 500% in the next 5 years and we believe we can make a greater impact by influencing those who travel to our shores as well. Sustainability has ripple effects and we believe small acts (even while traveling) can make a significant difference. Here are some the ways you can help too:
Recycle – We propose drinking from personal water bottles while traveling on vacation instead of choosing plastic bottled water or juice options. Another way to support this is to choose hotels that have a current recycling program.
Dim or reduce light usage – While on vacation dimming or watching our consumption of utility usage is usually the last thing on our minds. Simple acts such as turning out the lights when leaving your room can have a great impact on the monthly utility readings.
Be mindful of AC usage – It's surprising how reducing the air conditioning temperature by a degree or two lowers the consumption of energy. Sustainable hotels, Jamaica Inn included, train housekeeping staff to set the default standard temperatures before, during and after guest arrival and departures to avoid high energy consumption.
Ditch the straw – Jamaica Inn for the past two years have sourced biodegradable paper straws for usage on property to reduce the overall waste produced by plastic straws. We encourage travelers to make responsible choices while dining to curtail waste.
Don't print your boarding pass – technology allows us to have convenient way and means to receive travel passes either via email or text. Try choosing this option the next time you travel.
13. Caribe Hilton
San Juan, Puerto Rico
From $330 per night

ETIC Hotels Green Score: 9.5/10
What makes Caribe Hilton sustainable?
Due to its consistent efforts to contribute to a more sustainable future, Caribe Hilton is a proud recipient of Green Key.