A Sustainability Ranking in partnership with
ETIC Hotels
You're planning a trip to the Maldives and you're trying to be as ethical and sustainable as possible?
niood lists you the 10 most sustainable hotels in the Maldives:
1. Six Senses Laamu
Laamu Atoll 15090, Maldives
From $2,200 per night

ETIC Hotels Green Score: 9.5/10
What makes Six Senses Laamu sustainable?
Sustainability is at the heart of our decisions and actions. By being responsible today, we ensure that the unique environments, cultures and experiences we share with our guests will be experienced for generations to come. We not only respect our guests and hosts, but also the local communities and ecosystems around us too.
Fifty percent of water sales in all restaurant outlets goes into a project fund providing clean, reliable drinking water to local communities in need. This fund contributed to a reverse osmosis water plant to the regional hospital, thirty household water filters to a local island and larger water filters to all 23 schools and preschools in the atoll. In 2019, water filters were donated to all five of Laamu Atoll's police stations and one Maldives National University – Gan Campus, providing plastic-free drinking water to 380 more people.
We also fund many plastic free initiatives. Water filters sponsored by the resort eliminate the need for approximately 6 million plastic water bottles in Laamu atoll each year. We support L. Maamendhoo's Women Development Committee which employs local tailors to produce reusable cotton bags for all households on their island, thus reducing plastic waste and creating new jobs in the community. In L. Kunahandhoo, reusable bags are also distributed to schools, recruiting a new generation of plastic free ambassadors!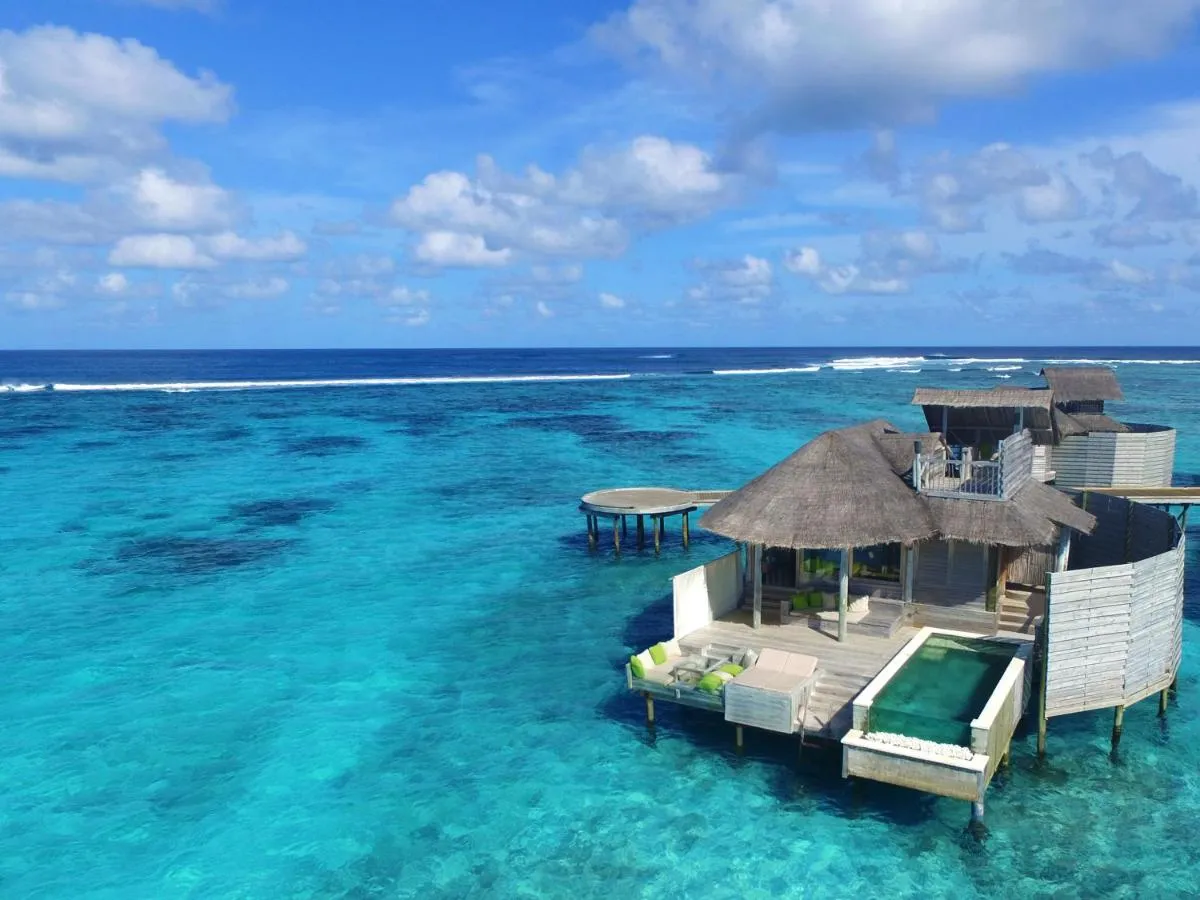 2. Four Seasons Landaa Giraavaru
Landaa Giraavaru island, Baa Atoll, Maldives
From $1,500 per night

ETIC Hotels Green Score: 9.5/10
What makes Four Seasons Landaa Giraavaru sustainable?
Conservation: Landaa's Marine Discovery Centre – an interactive research, conservation and education facility – is home to Marine Savers: 10 full-time Marine Biologists and numerous interns and apprentices who work with the government and local environmental agencies to protect the creatures of its UNESCO World Biosphere Reserve home through turtle rehabilitation, coral reef restoration, fish breeding and more. It also houses the Maldivian home base of The Manta Trust, the world's largest manta ray charity.
Carbon: Landaa is home to one of the Maldives' largest resort-based solar installations. The ambitious project comprises 3,105 panels and spans 5,380m² – the roof surface of the staff village – with the goal of producing between 900,000 and 1.1 million kWh of energy every year and saving between 250,000 and 300,000 litres of diesel, which corresponds to 650-800 tons of CO2. From 2020, the Resort is implementing a tailor-made project with TIST that allows guests and employees to offset the emissions of plane travel through a local tree-planting initiative.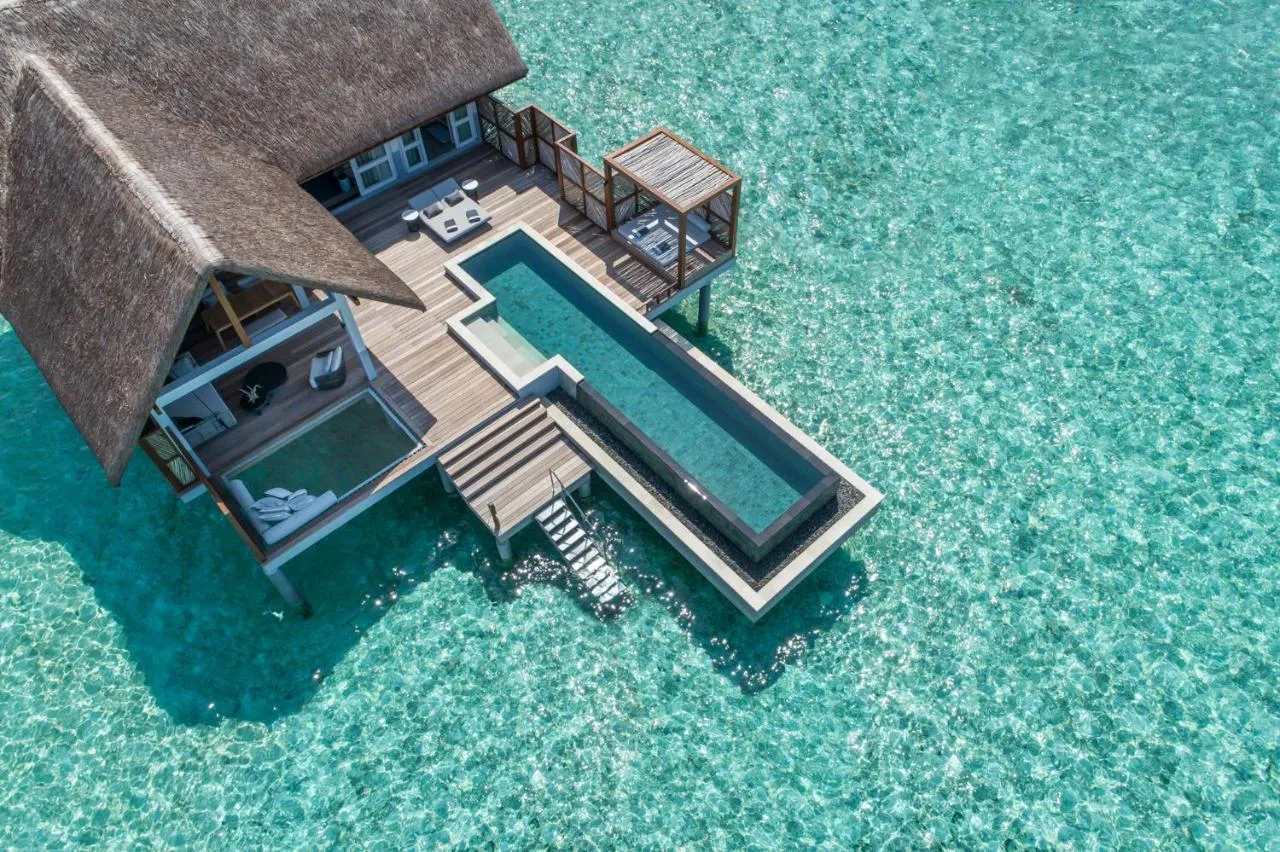 3. Soneva Fushi
Kunfunadhoo Island, Eydhafushi, Maldives
From $1,300 per night

ETIC Hotels Green Score: 9.5/10
What makes Soneva Fushi sustainable?
Soneva Fushi was also the first resort in the Maldives to recycle plastic on-site and collect discards from nearby islands with their Maker Programme. It is a carbon neutral, 90 percent waste-free resort—and with the help of their Waste to Wealth program, hope to be 100 percent waste-free soon.
"Our priority is taking waste from the resort and transforming [it] into valuable products," said Gordon Jackson, Soneva's area waste to wealth manager. Jackson and his team take recycled glass like ketchup bottles and make beautiful sculptures that are then sold at the island's art studio for guests to take home.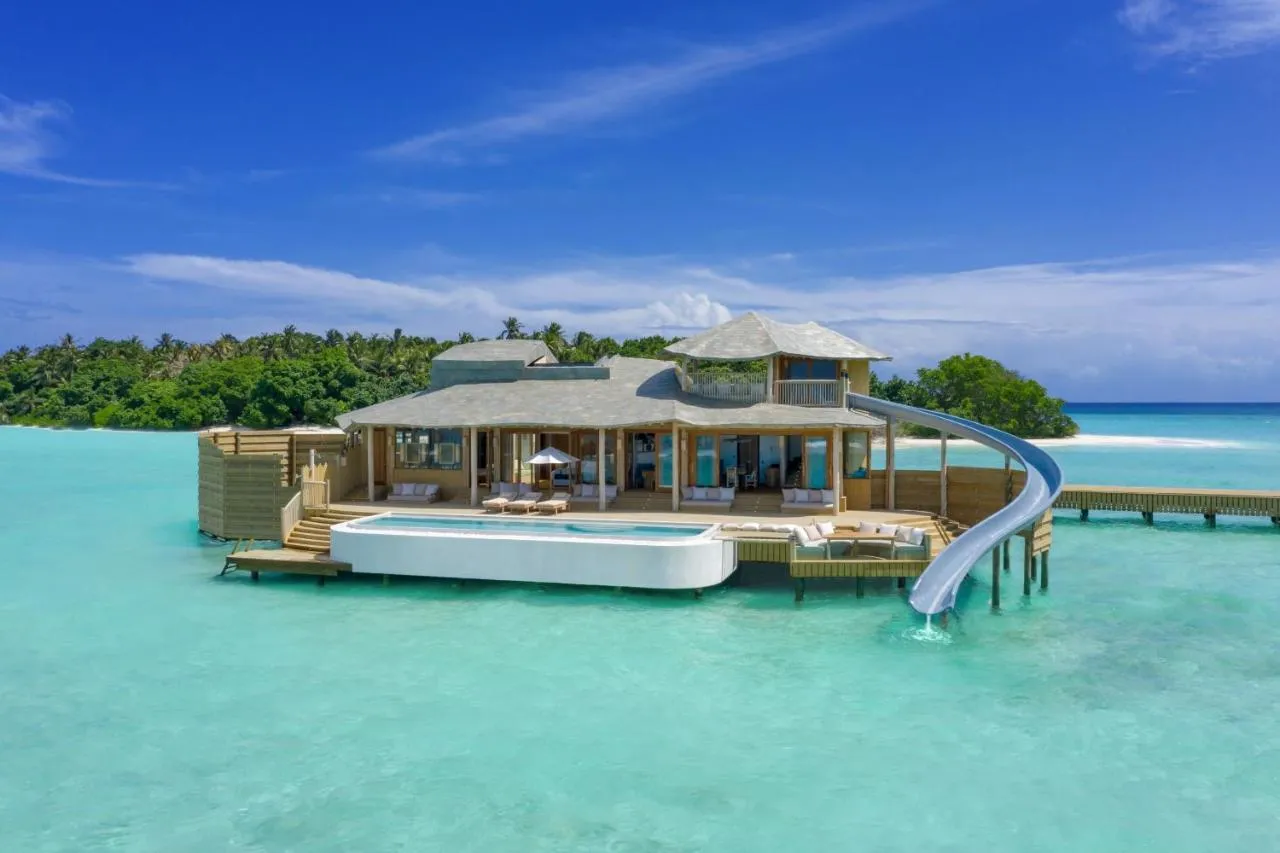 4. Movenpick Resort Kuredhivaru
Kuredhivaru Island Noonu Atoll, Maldives
From $900 per night

ETIC Hotels Green Score: 9.5/10
What makes Movenpick Resort Kuredhivaru sustainable?
On the roof of our team village, there are 1,700 solar panels that enjoy bathing in the sun. As a result, they generate clean energy that accounts for 35% of the total energy used in our resort.
The water heating system in each guestroom uses the regenerated heat from its own air conditioning unit, sustainably cooling you down under the sun and providing hot showers under the stars.
We use a desalination plant to produce potable water from the ocean that surrounds us, which helps us conserve the limited, natural fresh water supply.
Clean drinking water is produced in-house at our bottling plant, with the capacity of 4,000 litres a day which means we avoid using 300,000 plastic bottles each year.
Drink from glass water bottles, use compostable straws and dispose of trash in reusable containers. We encourage everyone to help us reduce plastic waste in simple ways.
Check in, view receipts, and learn more about our resort on screens. We left the traditional process behind and moved to a sustainable paperless experience.
Our suppliers understand and support our green mission by reducing the packaging when delivering supplies to our island. That means fewer unnecessary materials arrive on our tropical paradise.
5. LUX* South Ari Atoll
South Atoll, Dhidhoofinolhu, Maldives
From $320 per night

ETIC Hotels Green Score: 9.5/10
What makes LUX* South Ari Atoll sustainable?
LUX* Resorts is pleased to announce their luxury Maldivian resort LUX* South Ari Atoll has recently been awarded the Green Globe certification. Green Globe assesses the sustainability performance of the travel and tourism industry, and therefore highlights LUX* South Ari Atoll's continued dedication to their sustainable development strategy.
Equipped with an onsite Marine Biology Centre to study and protect the native whale shark population, LUX* South Ari Atoll educates guests on eco tours and supports on-going scientific research. The marine centre staff are integral to removing ghost nets from the sea, which are deadly to many aquatic creatures. They are also responsible for regenerating coral to help support marine life.
LUX* South Ari Atoll is constantly striving to achieve a positive environmental impact on the Maldivian island of Dhidhoofinolhu. Their dedication to a greener future can be seen in the undertaking of various new initiatives that aim to work in harmony with the resort's natural surroundings. One such project launching in October, is Energy Saving Solar, a partnership with Swimsol GmbH to convert sun energy into electricity. This, combined with the Solar Sea innovation of photovoltaic panels floating in the lagoon will further increase the resort's energy capacity.
6. Baros Maldives
From $350 per night

ETIC Hotels Green Score: 9.5/10
What makes Baros Maldives sustainable?
The hotel's Stadel is 100 percent recyclable. From the outside, the Hubertus is planked with natural wood while the inside is designed straight. High-quality sustainable materials like stones, brushed wood, linen, and furs create a warm and cozy atmosphere.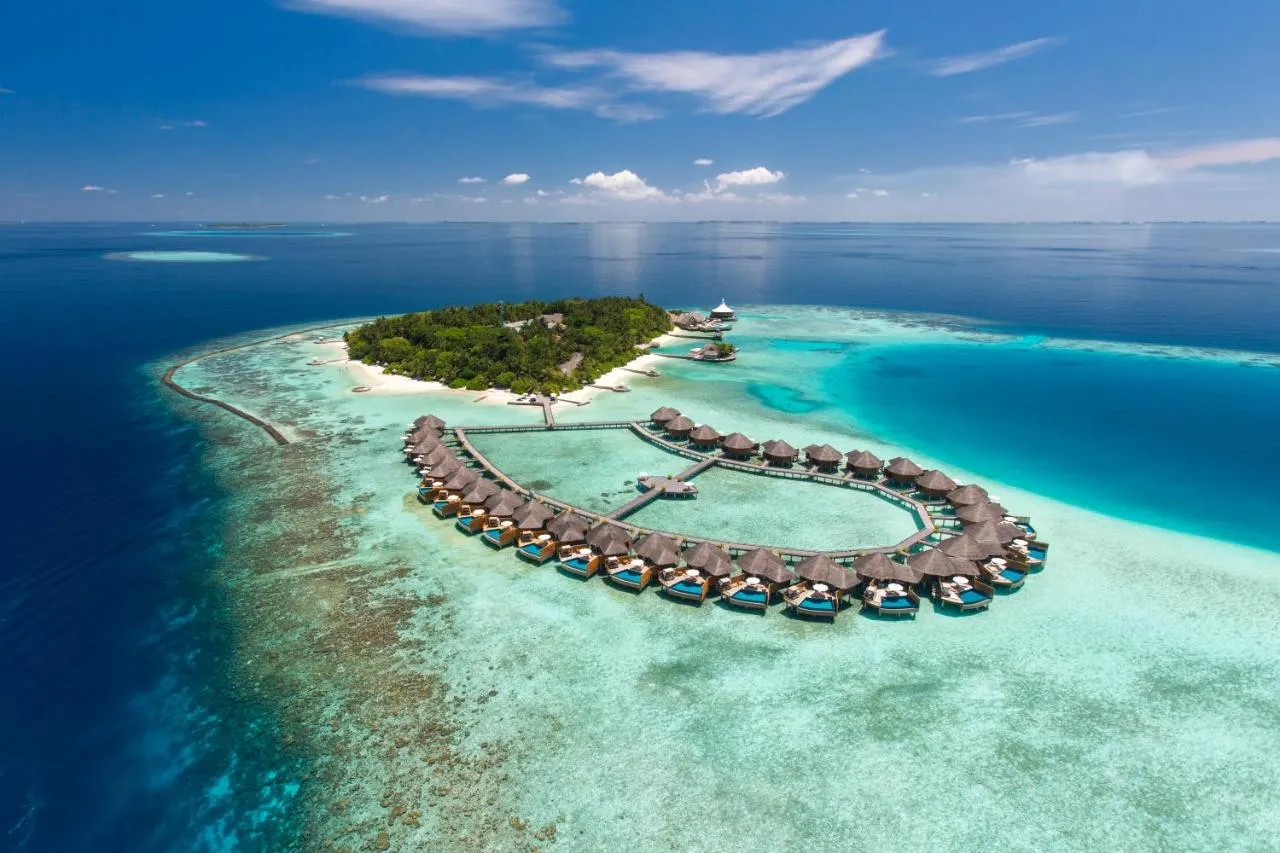 7. Dusit Thani Maldives
Mudhdhoo Island Rd, Maldives
From $550 per night

ETIC Hotels Green Score: 9.5/10
What makes Dusit Thani Maldives sustainable?
At Dusit Thani Maldives, sustainability is in our DNA; we are committed to making sustainability a part of everything we do. Our journey towards a greener planet and a sustainable future come with the support and engagement of our staff, partners and guests," explained Mr. Thomas Weber, General Manager at Dusit Thani Maldives.
The Power Knot LFC biodigester is marketed and distributed in the Maldives by Hospitality Depot Pvt Ltd – a hospitality products and solutions provider. The aerobic biodigester, which disposes of food waste safely and cost-effectively, is a practical substitute for the old-fashioned discarding of food waste. "Technicians from Hospitality Depot came for the installation and did a commendable job. They also trained our team members; my deputy and I, in addition to eight garden staff who handle segregation of food waste," explained Ajith Kumar, chief engineer at Dusit Thani Maldives.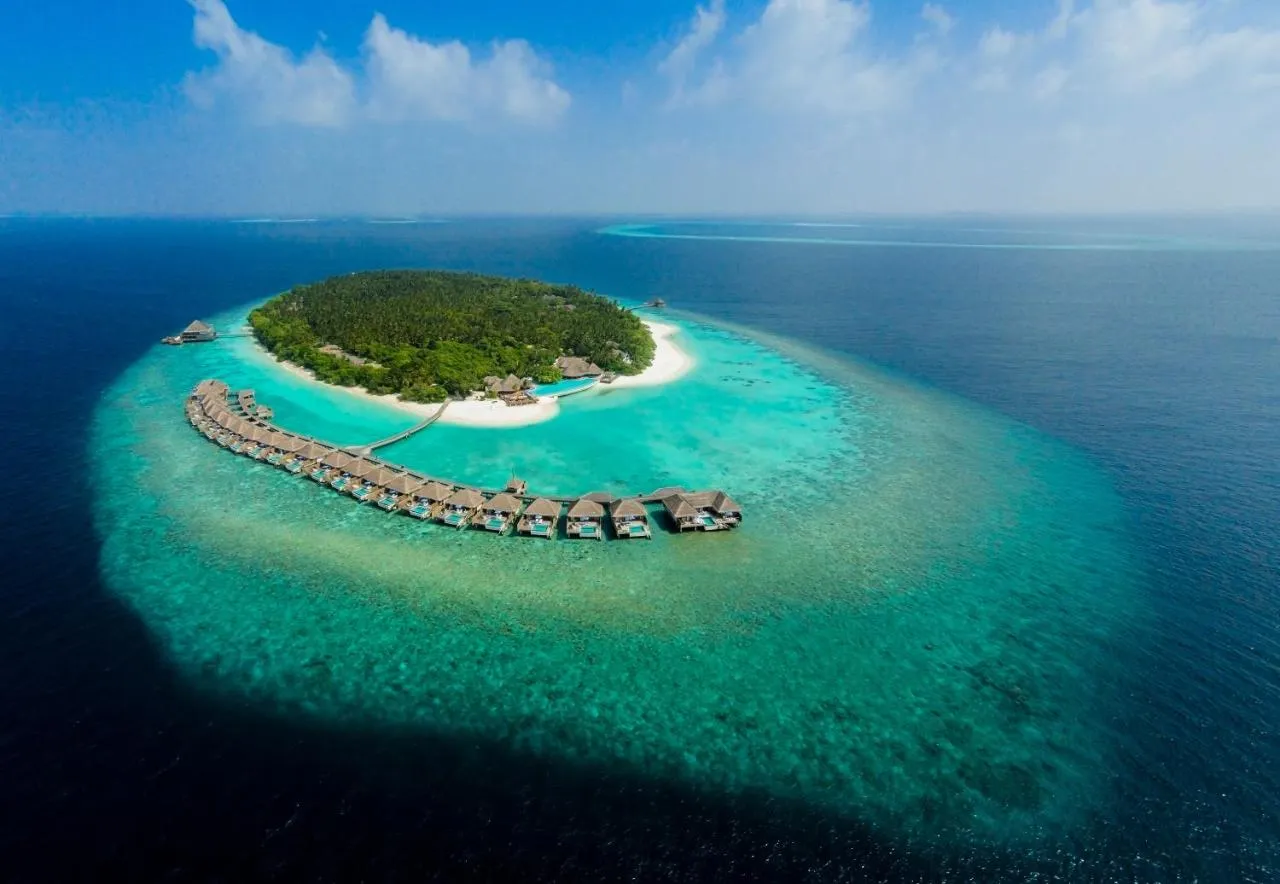 8. Coco Palm Dhuni Kolhu
Dhuni Kolhu, Thulhaadhoo, Maldives

From $250 per night

ETIC Hotels Green Score: 9.5/10
What makes Coco Palm Dhuni Kolhu sustainable?
Adored by our chefs, the herb gardens on our islands provide guests with a selection of organic, home-grown herbs, fruits, and vegetables. The harvest is not only fresher than fresh; we reduce the impact of food miles by importing these ingredients to the island.
As part of Coco Collection's commitment to protecting and nurturing our environment, we have established Coco Dreams Green, a pledge to increase our sustainability efforts by significantly reducing the amount of single-use plastic on all our properties, including at our corporate office. Our long-term goal is to bring the amount of single-use plastic on our islands to zero.
9. Gili Lankanfushi
Lankanfushi Island, North Malé Atoll Republic of Maldives, Maldives

From $1,300 per night

ETIC Hotels Green Score: 9.5/10
What makes Gili Lankanfushi sustainable?
All our buildings are constructed using sustainably-sourced plantation teak, palm wood, bamboo and palm fronds (much of which was harvested during the island rehabilitation process) in addition to recycled telegraph poles. All rooms provide organic toiletries in refillable earthenware containers, to minimise plastics use and wastage. The island's dedicated desalinisation plant provides bottled still and sparkling water for all guests.
Energy efficiency is top of mind too, and while we have drastically decreased our fuel consumption, we are always looking to save more.
10. Kuramathi Maldives
Kuramathi, Ari Atoll, Maldives

From $350 per night

ETIC Hotels Green Score: 9.5/10
What makes Kuramathi Maldives sustainable?
In order to minimise the use of plastic, in 2011, we installed a bottling plant and started producing our own potable water that we serve to the guests and team members. We follow a stringent three-stage water purification process ensuring the highest quality and standard. The final product is a Still and Sparkling water in Kuramathi glass water bottles available in two sizes which we offer to our guests. We also serve this water in all our offices, team restaurants and areas for our 1000+ team members! Reusing Kuramathi glass bottles made our carbon footprint smaller and reduced the usage of about 300,000 plastic bottles that are discarded every year. In addition, Kuramathi now serves paper straws in all bars as part of its sustainability program. We have also started using bigger and refillable containers for our guest toiletries, and due to the size of the resort, it is being done over phases. Our plastic waste is collected and sent to Parley for recycling. Parley is an organization committed to reducing and recycling plastic waste, with whom we have been working since 2017.
Our Hydroponic Garden, built on already cleared land on the island is where we grow, and harvest more than 500 kilograms of salad greens and herbs every month served in our team and guests buffets. Maintained by our resident horticulturist and his team, the garden produce salad greens and herbs such as red lettuce, green lettuce, green basil, purple basil, Thai basil, mint, coriander, dill, small basil, watercress, edible flowers, cherry tomato, chili, rocket leaves, pak choi, mizuna, tomato, curry leaves, banana, cabbage leaves and bilimbi.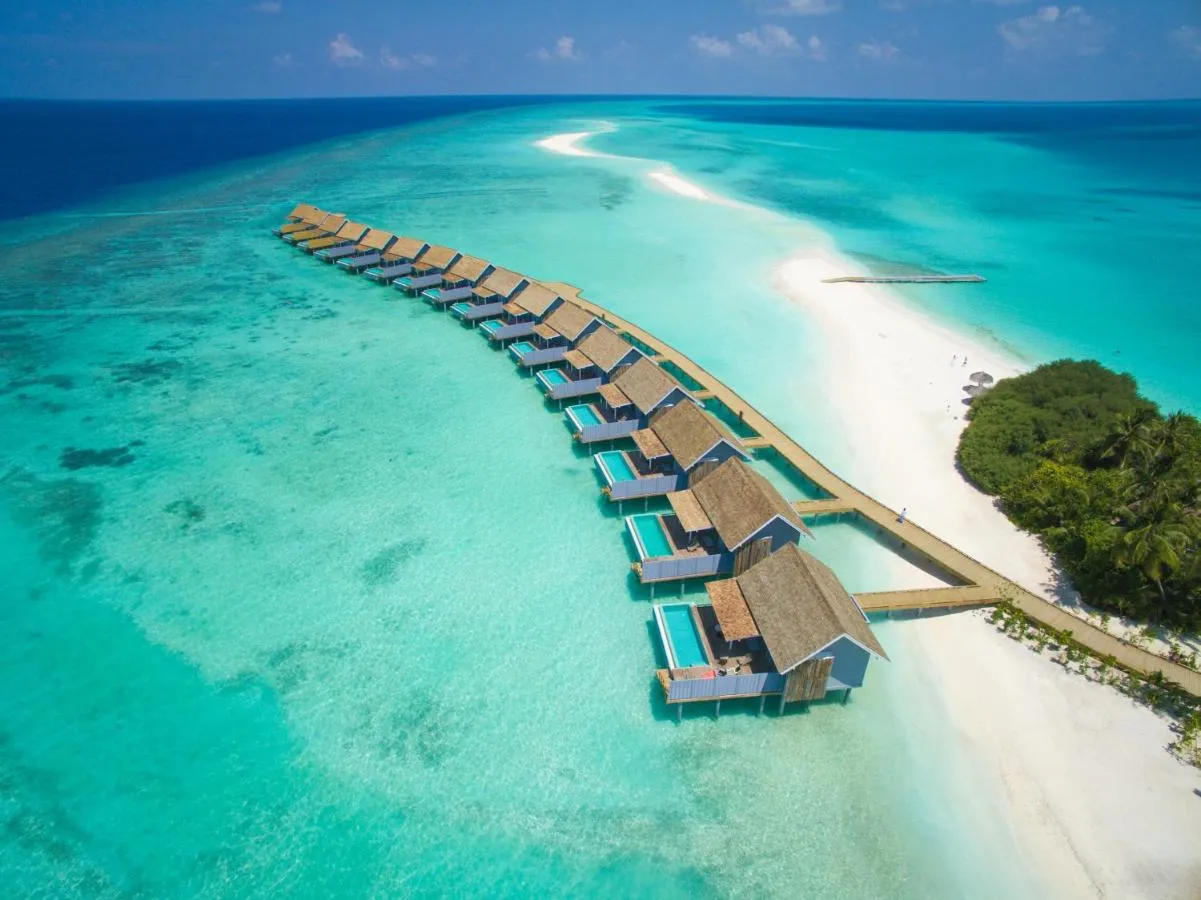 11. Soneva Jani
Medhufaru Island, Manadhoo, Maldives

From $2,000 per night

ETIC Hotels Green Score: 9.5/10
What makes Soneva Jani sustainable?
Conservation: Guardians of places that have existed long before us, our vision is inspired by nature's magnitude, mystery and enchanting beauty. We work hand in hand with the environment to craft beautiful, bespoke experiences where discovery is a way of life. In-house marine biologist has set up a coral nursery that guest can participate in and protect turtles that come and lay their eggs on the beach. Unique fresh water lakes on the main island with mangroves are home to birds and crabs.
Community: Soneva Jani has a strong emphasis on local employment and increasing opportunities for women. Only 4% women is the national average in the hospitality industry. The property opened with a Maldivian female resort manager and 23% women, many from the local islands surrounding the resort.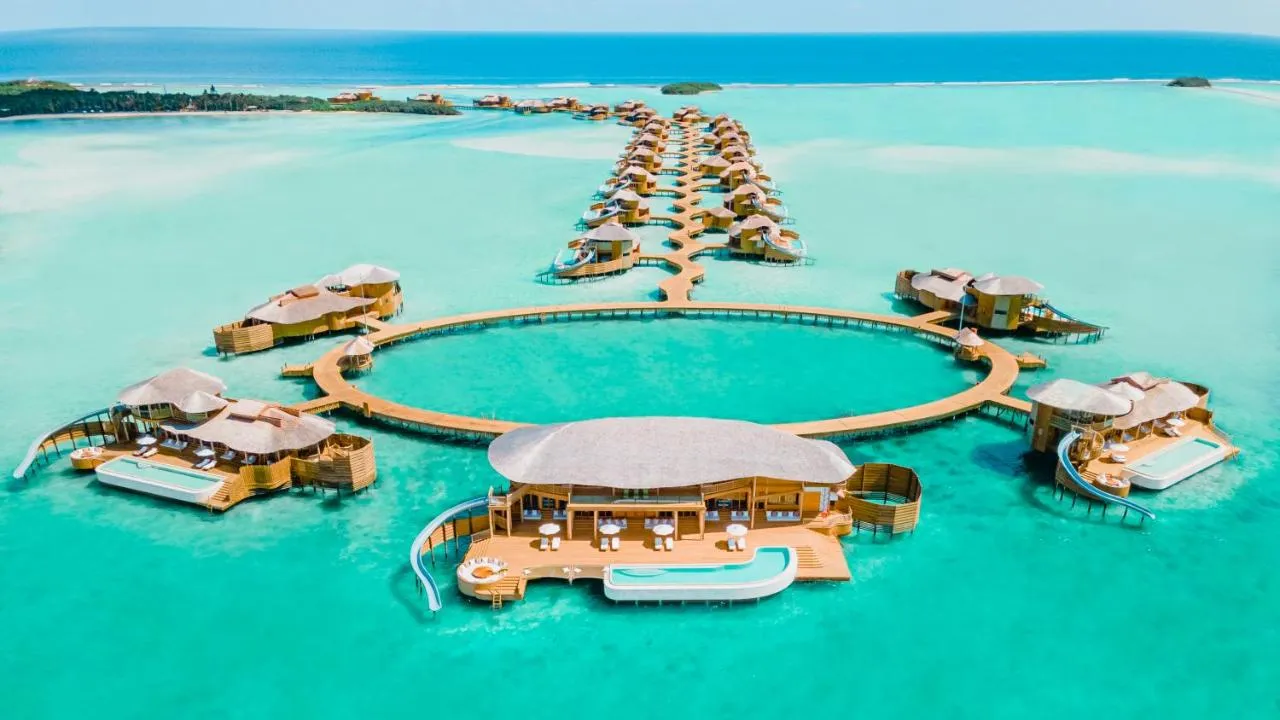 12. One&Only Reethi Rah
Reethi Rah, North Malé Atoll, Malé, Maldives

From $1,400 per night

ETIC Hotels Green Score: 9.5/10
What makes One&Only Reethi Rah sustainable?
At One&Only Reethi Rah, we are aware that certain resort operations may impede on the environment and community if not managed properly. The resort team strives towards minimising our environmental footprint by implementing sustainable initiatives and action plans to reduce the use of energy and water as well as effectively managing waste. 
One&Only Reethi Rah recognises that the guest experience is in many ways, dependent on its natural surroundings as well as the culture and the people of the Maldives. Of particular natural significance are the surrounding coral reefs of the Indian Ocean which are part of the 8th largest coral reef system in the world, as well as several endangered marine species that live there. To preserve this destination, we are committed to achieving best practices of environmental and social sustainability. To help achieve this, we partnered with EarthCheck in 2018, the World's leading scientific benchmarking, certification and advisory group for sustainable travel and tourism.