A Sustainability Ranking in partnership with
ETIC Hotels
You're planning a trip to Greece and you're trying to be as ethical and sustainable as possible?
niood lists you the 12 most sustainable hotels in Greece:
1. Ekies All Senses Resort
Vourvourou, Greece
From $200 per night

ETIC Hotels Green Score: 9.5/10
What makes Ekies All Senses Resort sustainable?
Organic fabrics like the pure linen of the curtains and bedding.
Walls come in authentic hues of olive green and burnt sienna by way of eco-friendly paint.
The Treehouse restaurant was built using sustainably sourced materials.
2. Native Eco Villas
Imerovigli, Santorini, Greece
From $1,200 per night

ETIC Hotels Green Score: 9.5/10
What makes Native Eco Villas sustainable?
High-tech insulation, double-glazed windows with wooden frames no less, eco-friendly Jacuzzis with special covers that harvest the heat of the sun and radically reduce heating costs, energy efficient heat pumps and appliances, water aerators, a towel reuse program, and rain collection from the roofs.
The staff cleans with vinegar rather than caustic cleaners and uses recycled paper when needed. All these and more place these villas among the most environmentally friendly on the island.
3. Coco-Mat Eco Residences
Vagia, Greece
From $320 per night

ETIC Hotels Green Score: 9.5/10
What makes Coco-Mat Eco Residences sustainable?
The Greek architect George Zafiriou worked with the surroundings to create a natural air conditioning system, as well as designing spaces that have endless natural light.
This holistic approach extends to the amenities on offer too. Food is locally sourced, and drinks are created with fresh produce from the island.
4. Eagles Palace
Ouranoupoli, Greece
From $200 per night

ETIC Hotels Green Score: 9.5/10
What makes Eagles Palace sustainable?
Beach-cleaning initiatives are regularly organised with local primary schools and educational workshops centred on protecting emigrating birds are run regularly.
Food is locally sourced.
5. Eumelia Organic Agrotourism Farm
Gouves, Greece
From $320 per night

ETIC Hotels Green Score: 9.5/10
What makes Eumelia Organic Agrotourism Farm sustainable?
Eumelia's organic farmstay is designed along the principles of biodynamic farming & permaculture and their hotel facilities use entirely eco-friendly materials and eco-technologies, making eumelia the most ecological & green, farm and hotel in Greece.
They recycle, create compost, use geothermal heating, solar water heating and recycle water with the natural root method. located in the Peloponnese, in the region of Laconia near the village of Gouves.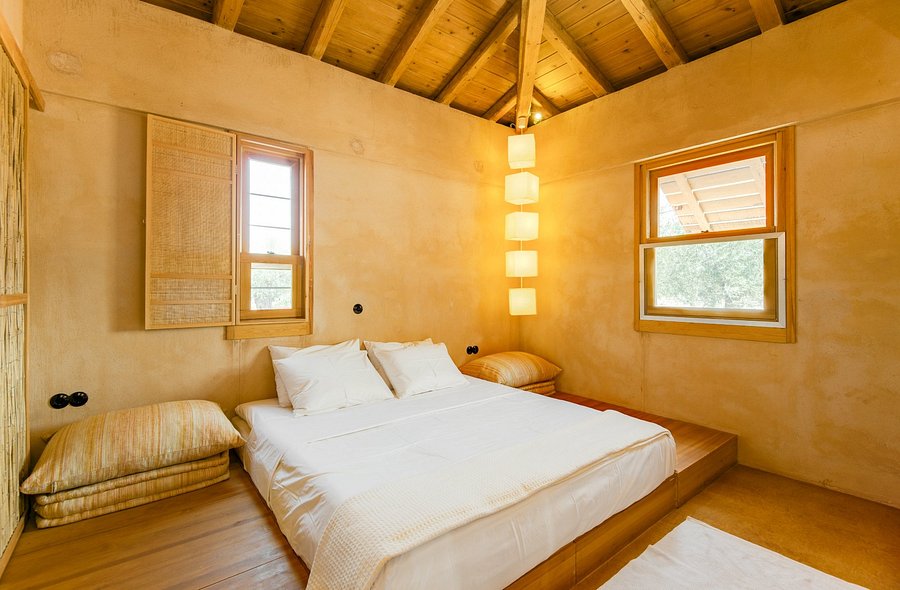 6. Royal Marmin Bay Boutique & Art Hotel
Agia Paraskevi, Greece
From $150 per night

ETIC Hotels Green Score: 9.5/10
What makes Royal Marmin Bay Boutique & Art Hotel sustainable?
The hotel uses 100% LED lighting systems, resulting in lower power consumption.
Building management system. Optimizes energy consumption of cooling / heating as well as the energy consumption in pumping systems.
Water consumption management system, which ends up in the gardens of the hotel.
Heat recovery of the cooling system of the building. Heating eliminated, is used to heat the water for the bathroom.
Solar panels contribute to 50% of the production of hot water.
Low energy consumption cooling systems for rooms.
Saving energy with insulation materials in all buildings.
Energy-efficient windows in all rooms.
Use of exclusively ecological, chemical-free cleaning products in all rooms and to other hotel areas.
The sheets and towels for our guests are from the best, environmentally friendly materials.
High quality organic products are used for the cooking and come from local producers.
7. Good Life Greece Eco Villas
Posidhonía, Greece
From $120 per night

ETIC Hotels Green Score: 9.5/10
What makes Good Life Greece Eco Villas sustainable?
The sheltered bay of Poseidonia is perfect for growing olives, figs, grapes, oranges and vegetables. The Good Life offers you:
Organic produce – Help yourself to the fruits, vegetables and fresh eggs from our sustainable garden
Olive picking holidays – In late October, early November, join in our olive harvest and learn how to preserve and cook with olives
Grape picking holidays – In early October we cut grapes and celebrate wine making. Book early.
8. Antares Hotel Mani
Areopoli, Greece
From $150 per night

ETIC Hotels Green Score: 9.5/10
What makes Antares Hotel Mani sustainable?
Antares applies environmentally sustainable practices through water conservation, waste and energy management, offers private parking, patios and indoor areas where a freshly prepared individual breakfast is served. Wild flowers, plants and herbs compliment the garden.
9. La Bellezza Eco Boutique
Kamari, Greece
From $180 per night

ETIC Hotels Green Score: 9.5/10
What makes La Bellezza Eco Boutique sustainable?
La Bellezza Eco Boutique Hotel facilities are heated by a combination of solar thermal panels on the terrace and pumps by using water circulation. In other words, water is heated by the sun. Fan coils are installed to all our suites and apartments in order to ensure better performance including the best possible control of working frequency. Optimum power is applied in all cooling and heating ranges. Maximum comfortable conditions are achieved while consuming minimum energy. All the pipe work throughout the facilities is insulated. There are also boilers to restore any shortfall.
Our hypoallergenic pillows are made in Greece from 100% organic rubber and cotton. The sheets and pillowcases are natural cotton and bedding is all hypoallergenic. In addition, all cleaning materials are approved and eco-friendly.
We are collecting rain water and using it for the main swimming pool. Internal underground water tanks are used to collect water for future use. In such way we avoid waste of the public water network system.
10. Avatel Eco Lodge
Kriopigi, Greece
From $150 per night

ETIC Hotels Green Score: 9.5/10
What makes Avatel Eco Lodge sustainable?
The lodge is hidden in the olive groves and is simply smothered in the romantic greenery of a pine forest, and the close proximity of the sea saturates and moisturizes the already healthy and clean air. You will awaken in the sounds of birdsongs, and enjoy the breathtaking view of the sea, fairytale forest and endless blue sky.
The unfailing love for the Greek nature has formed the basis of the organization of family recreation in our resort. All of the rooms at our lodge are designed in a unique eco style, which combines the use of natural materials and colors, allowing you to fully immerse yourself in the idyll of the surrounding world. As befits an eco-friendly hotel, we serve healthy food made from organic products, as well as natural cocktails for our guests. And, of course, we make all possible efforts to save nature — we minimize the use of plastic, sort the trash and thriftily treat the natural resources.
11. Nature Eco Residences Santorini
Akrotiri, Santorini, Greece
From $280 per night

ETIC Hotels Green Score: 9.5/10
What makes Nature Eco Residences Santorini sustainable?
The team is committed in eliminating all single-use plastic water bottles and plastic straws.
Water dispensers used instead of plastic bottles.
Each purchases are chosen with care and contain a low percentage of packaging materials.
Bathroom dispensers.
Guests have the chance not to wash their towels every day and save water and preserve electricity.
Use of eco-effective professional cleaning and care products.
12. Phōs the Boutique Luxury Hotel & Villas
Akrotiri, Santorini, Greece
From $450 per night

ETIC Hotels Green Score: 9.5/10
What makes Phōs the Boutique sustainable?
Phos the Boutique adopted the principles of sustainable architecture.