A Sustainability Ranking in partnership with
ETIC Hotels
You're planning a trip to Morocco and you're trying to be as ethical and sustainable as possible?
niood lists you the 10 most sustainable hotels in Morocco:
1. Jnane Tamsna
Marrakech, Morocco
From $180 per night

ETIC Hotels Green Score: 9.5/10
What makes Jnane Tamsna sustainable?
Staff reuses and recycle as much as possible and the ground's lovely extensive gardens have an effective composting system. 98% of their staff is local and they offer long-term employees contracts with social security and benefits.
Jnane Tamsna ensures that all water is recycled. Water bottles are wisely reused as pots to grow starting vegetables for the gardens. All glass bottles are efficiently recycled as containers for olive oil, of which the hotel proudly presses 1,000 litres a year.
Self-sufficient with the organic veggies from the hotel's thriving farm, the hotel's restaurant focuses on healthy eating, no processed foods and a focus on Moroccan and Mediterranean cuisine. A water filter system successfully reduces plastics, and the hotel has low-energy consuming water heaters on the premise. The salt water pool is outfitted with an energy-saving pump and Jnane Tamsna also uses LED lighting throughout its grounds.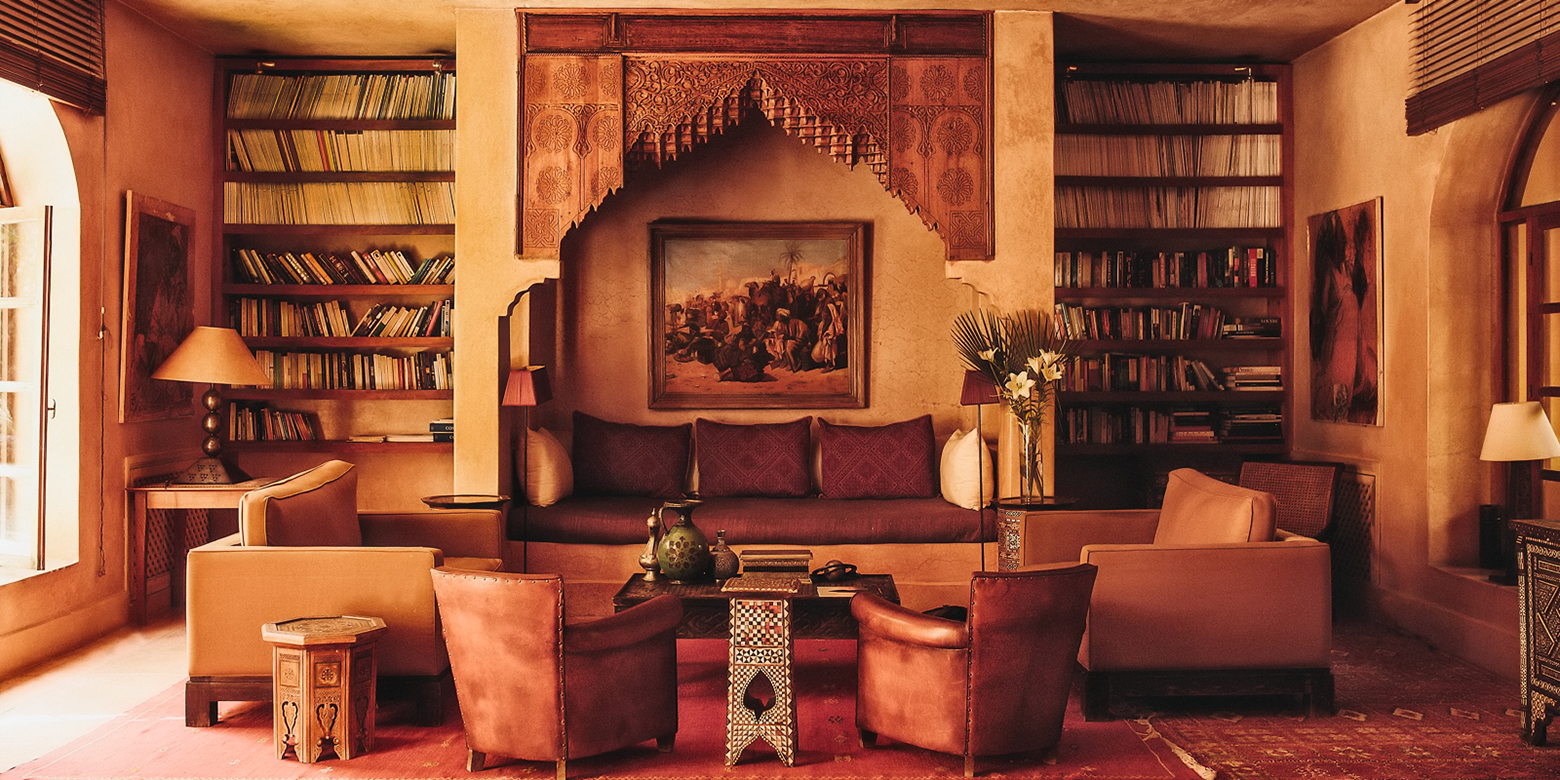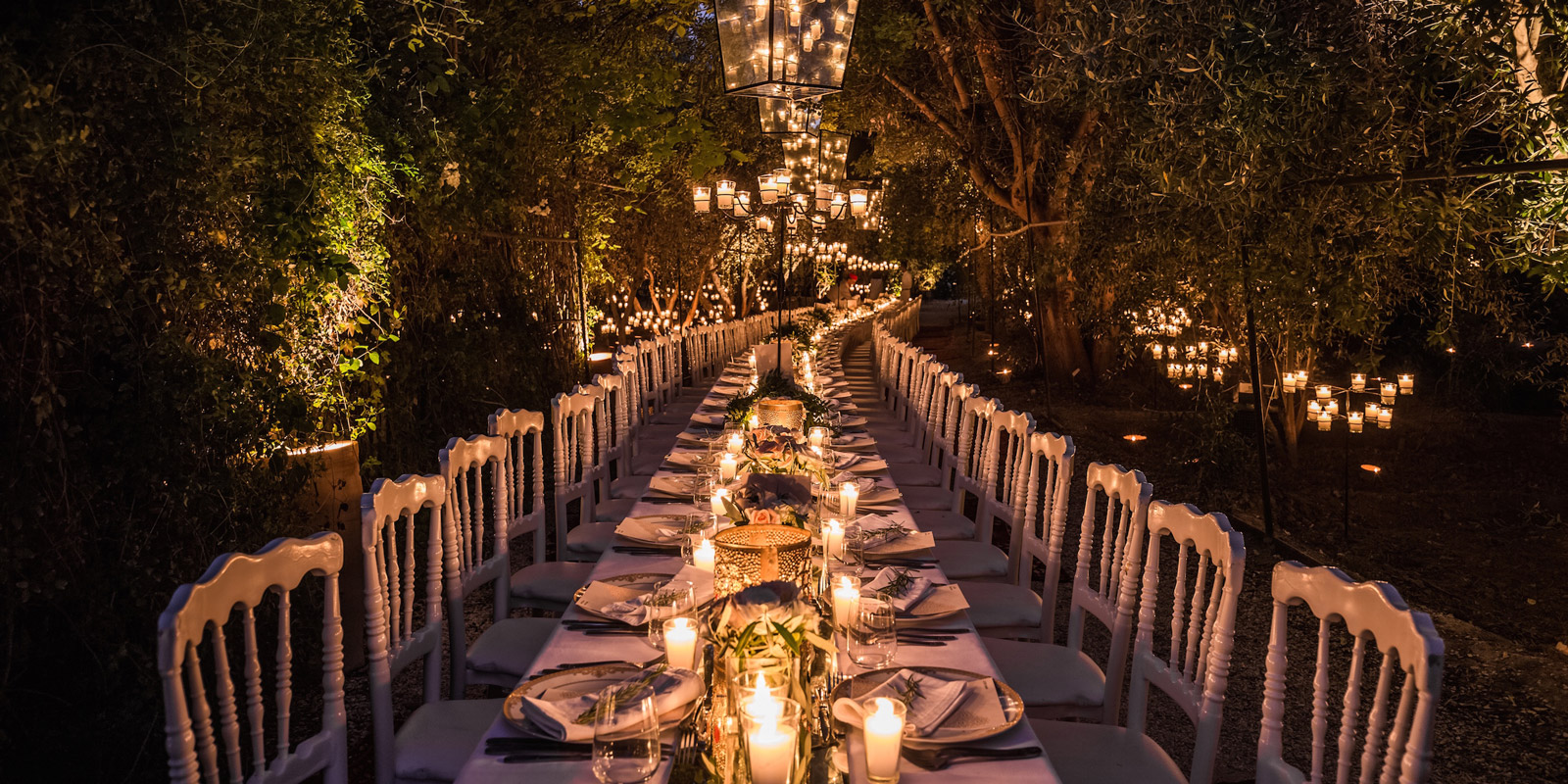 2. Les Terres D'Amanar
Atlas Mountains, Morocco
From $150 per night

ETIC Hotels Green Score: 9.5/10
What makes Les Terres D'Amanar sustainable?
The buildings were constructed in loyalty to traditional Berber architecture, using local sustainable (pressed bricks) materials.
The food at Terres D'Amanar is prepared by local Berber women from the next-door villages. 150 local families benefit from long-term employment as well as environmental awareness initiatives.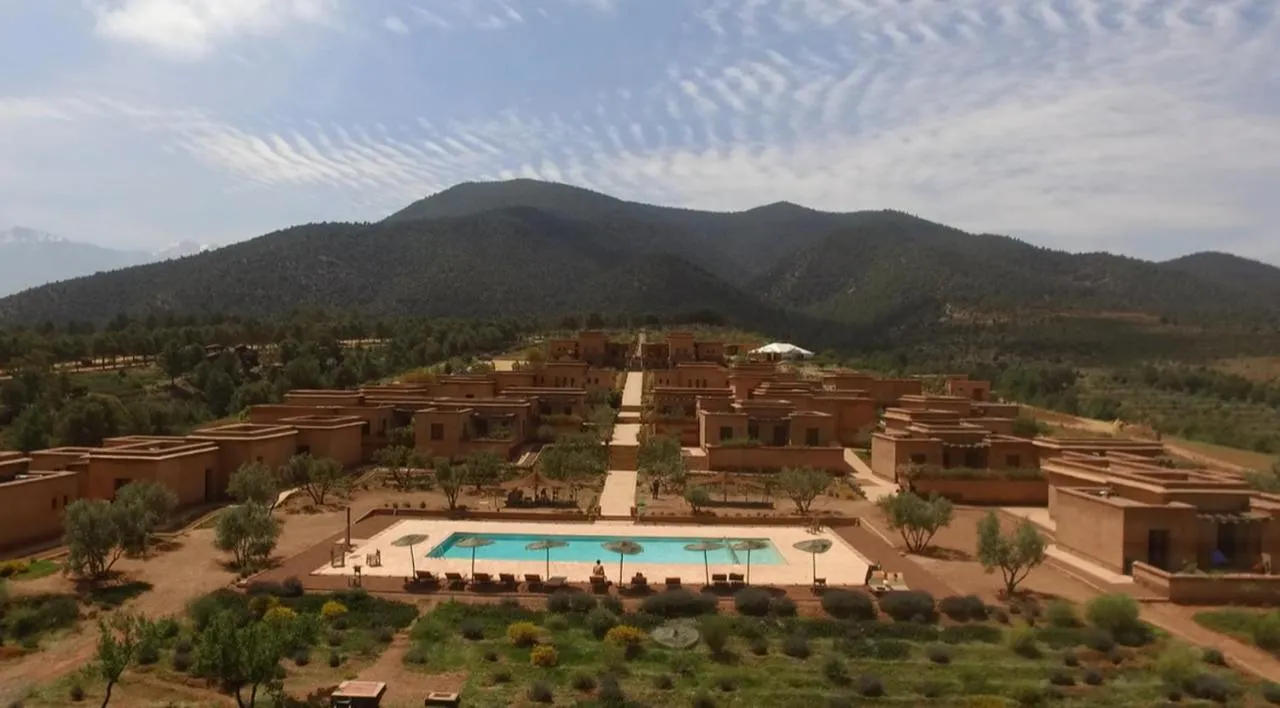 3. Les Jardins de Skoura
Skoura, Morocco
From $120 per night

ETIC Hotels Green Score: 9.5/10
What makes Les Jardins de Skoura sustainable?
From sustainable plants growing in their large organic garden, to training staff about conserving water, lighting and electricity, this quaint haven makes an effort to combat climate change and pollution.
There is a septic tank that reuses water for the garden, which in turn is home to native Moroccan plants that can survive with little water.
4. Kasbah du Toubkal
Atlas Mountains, Morocco
From $220 per night

ETIC Hotels Green Score: 9.5/10
What makes Kasbah du Toubkal sustainable?
Through the Kasbah's 5% levy for The Village Association, they have
Built an incinerator and instigated a much-needed rubbish disposal system, since self-sustaining through contributions by village businesses.
Developed the "Mountain Propre" clean-up operation including an annual rubbish collection from Jbel Toubkal, composting and recycling as much as possible;
Since 2009, supported a rubbish collection truck to replace mules.
5. Ksar Char-Bagh
Marrakech, Morocco
From $350 per night

ETIC Hotels Green Score: 9.5/10
What makes Ksar Char-Bagh sustainable?
Ksar Char-Bagh ensures it supports the local community, with all bills incurring a five per cent charge that benefits Village Association community projects.
6. Kasbah Bab Ourika
Atlas Mountains, Morocco
From $350 per night

ETIC Hotels Green Score: 9.5/10
What makes Kasbah Bab Ourika sustainable?
Constructed from rammed earth (also known as pisé), the walls are thick and keep a balanced temperature over the seasons. Solar panels are used for hot water and heating, recycled water is used in the gardens, and a biodigester turns waste products into electricity, gas and compost for the garden.
7. Ouirgane Ecolodge
Atlas Mountains, Morocco
From $70 per night

ETIC Hotels Green Score: 9.5/10
What makes Ouirgane Ecolodge sustainable?
– Use of mixer taps;
– Intelligent irrigation for the garden: well water, drop by drop system
– Use of biodegradable cleaning and bathroom products (no phosphate, non toxic, non corrosive, non-chlorinated).
– Use of renewable energy technologies (most of the water heating comes from photovoltaic panels);
– Low consumption light bulbs
– Maximization of natural lighting and ventilation.
– Implementation of the 3RV rule: reduce, reuse, recycle and valorisation. Reduction of disposable objects, no individual packaging and hence less packages;
– Left over vegetables are used as animal feed;
8. Royal Mansour
Marrakech, Morocco
From $1,300 per night

ETIC Hotels Green Score: 9.5/10
What makes Royal Mansour sustainable?
The Royal Mansour Marrakech will be among the hotels pioneering an approach using environmental considerations as a cornerstone in management decisions. In order to reach its objectives, the hotel management has drawn up the following guidelines:
Staff awareness: inducing better environmental practices by using and applying green measures at work and in daily life;
Environmental management: use of environmental techniques/methods and natural products in the maintenance of green spaces and sanitaries;
Efficient waste management: selective recycling, shredding and composting of organic waste;
Sensible water management: tracking of water consumption, drip irrigation watering system, maintenance and control of swimming pool water, sanitation equipment equipped with water saver systems;
Energy management: LED lighting, heat recovery ventilation units, motion lighting detectors, low-emissivity glazing and electronic monitoring system;
Greenhouse gas reduction: use of biomass boilers, staff transit transportation, etc.
In order to be as successful as possible, the Royal Mansour Marrakech has put in place a Green Club steering committee, in charge of applying these new green approaches.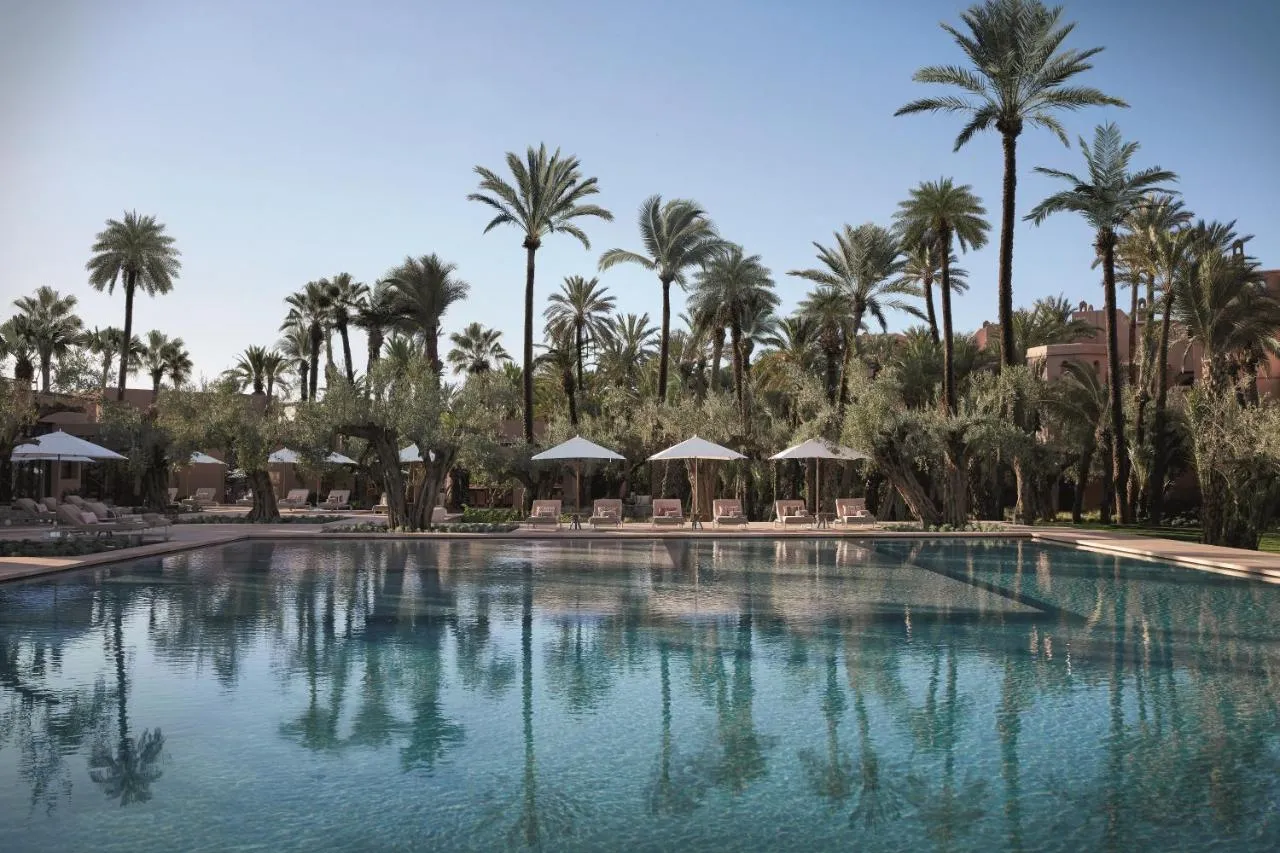 9. Les Jardins de la Medina
Marrakech, Morocco
From $160 per night

ETIC Hotels Green Score: 9.5/10
What makes Les Jardins de la Medina sustainable?
Les Jardins de la Medina are proud to have been awarded the «GREEN KEY» label again in 2020. This label honours tourist establishments that are committed to the development of responsible tourism and the preservation of Morocco's natural resources.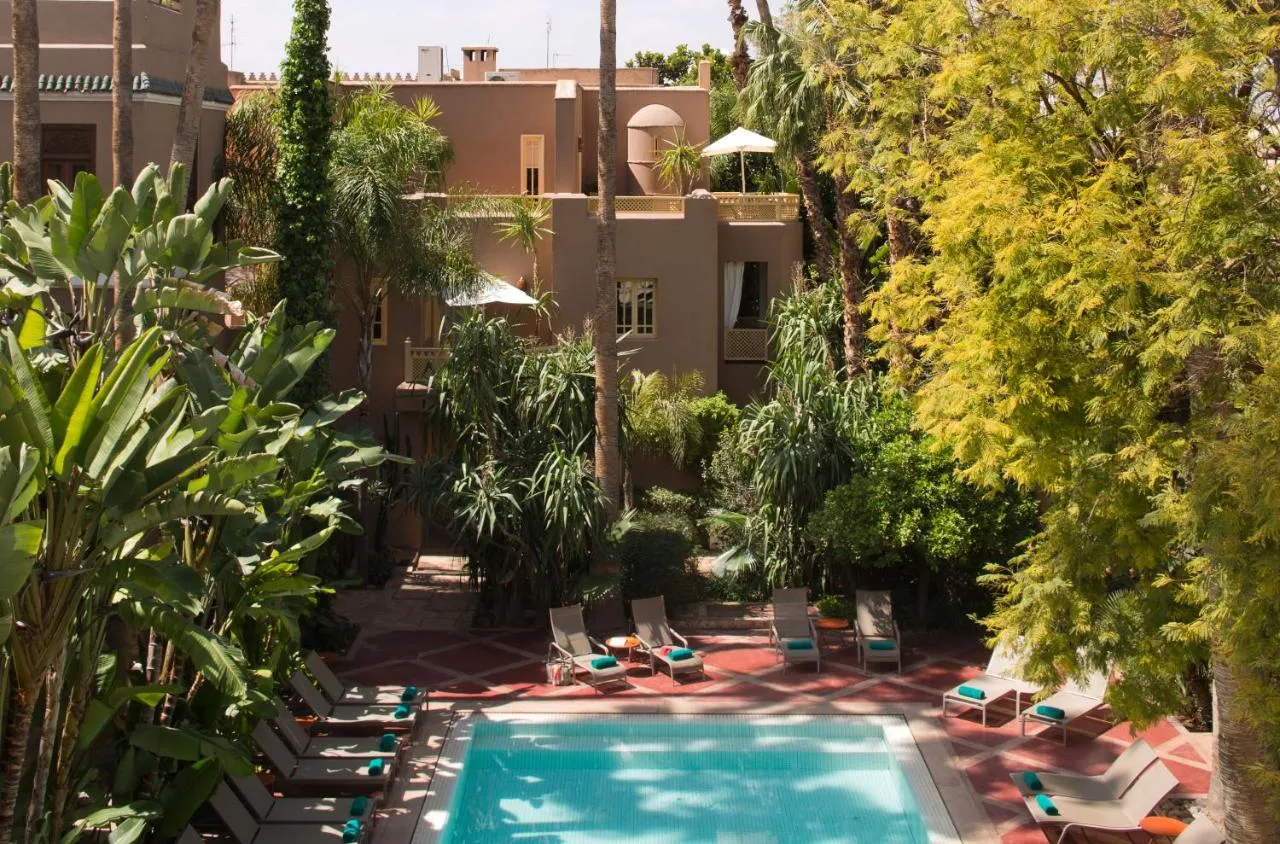 10. Fairmont Royal Palm
Marrakesh, Morocco
From $350 per night

ETIC Hotels Green Score: 9.5/10
What makes Fairmont Royal Palm sustainable?
XCO2 developed the concept stage MEP design, with CHP feasability assesment, as well as a low carbon strategy with detailed climate analysis, prescriptive guidelines to the architects, the energy strategy and a detailed comparative sensitivity analysis for energy and daylight to optimise LEED credit scoring while ensuring the best environmental and financial performance for the buildings.
The buildings are expected to consume 40% less energy than similar developments.