A Sustainability Ranking in partnership with
ETIC Hotels
You're planning a trip to Los Angeles and you're trying to be as ethical and sustainable as possible?
niood lists you the 10 most sustainable hotels in Los Angeles:
1. Shore Hotel
Santa Monica, CA 90401, United States
From $220 per night

ETIC Hotels Green Score: 9.5/10
What makes Shore Hotel sustainable?
Revolutionizing sustainability within the hospitality industry, every aspect of our environmentally friendly hotel has been designed to reduce the consumption of natural resources. Our hotel uses locally procured recycled materials, many salvaged from the building's preexisting site. By choosing to stay with us at Shore Hotel, you're already reducing your carbon footprint.
Our swimming pool is heated by solar energy and reduces our energy consumption and greenhouse gas emissions.
Drought-resistant plants used in our landscaping save 20% more water.
In room climate control reduces energy costs by 35%-45%.
Low flow shower heads result in 20% water reduction over traditional shower heads.
More than 90% of our guest rooms have a direct line of sight to the outdoors and natural daylight.
Our elevator pulley system is designed to save up to 75% more energy than conventional elevators.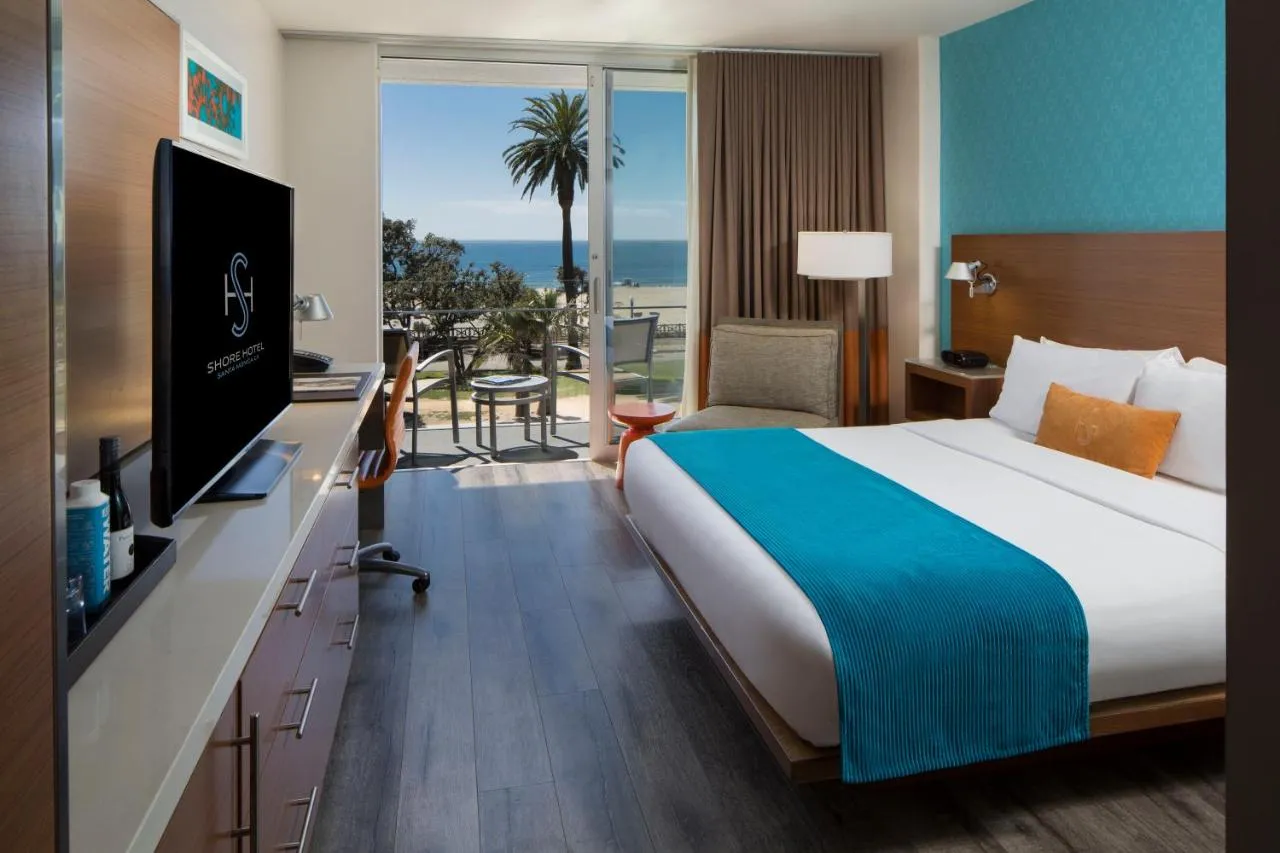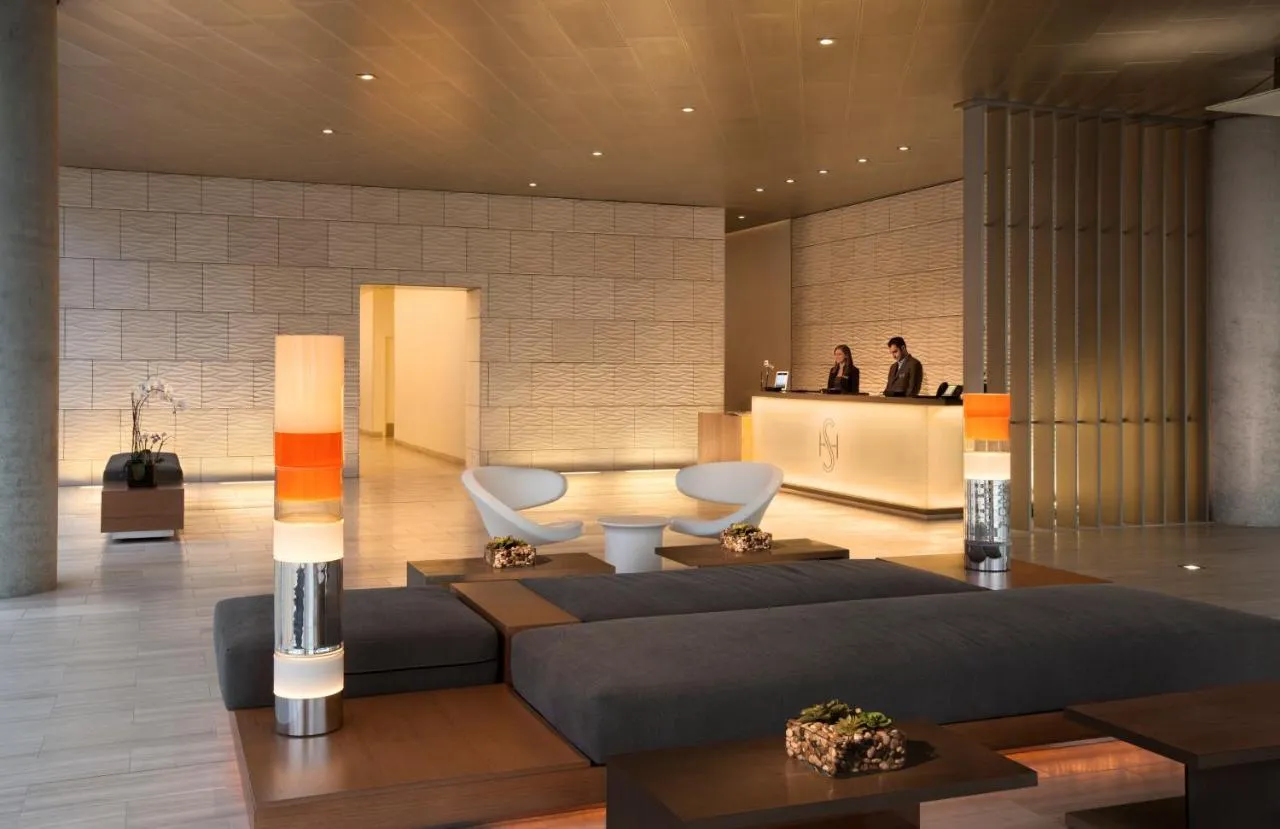 2. Miyako Hybrid Hotel Torrance
Torrance, CA 90501, United States
From $160 per night

ETIC Hotels Green Score: 9.5/10
What makes Miyako Hybrid Hotel sustainable?
The Miyako Hybrid Hotel is proud to call itself green. We strive to maintain an eco-conscious environment with an environmentally friendly, Japanese inspired hotel design that highlights energy efficiency and conservation. With a green philosophy in mind, the Miyako Hybrid Hotel is committed to keeping our hotel as sustainable as possible.
Solar power panels
Energy efficient lighting
Floor-to-ceiling windows and doors provide natural light
Energy efficient appliances
Low flow plumbing fixtures
Water saving landscapes and irrigation
Recycling bins located in guestrooms and throughout hotel
Recycled paper products
Towel and linen re-use program for guests
Non-toxic, biodegradable cleaning products
Green training programs for employees
Electronic communication and reservations
Re-use or recycling of shipping materials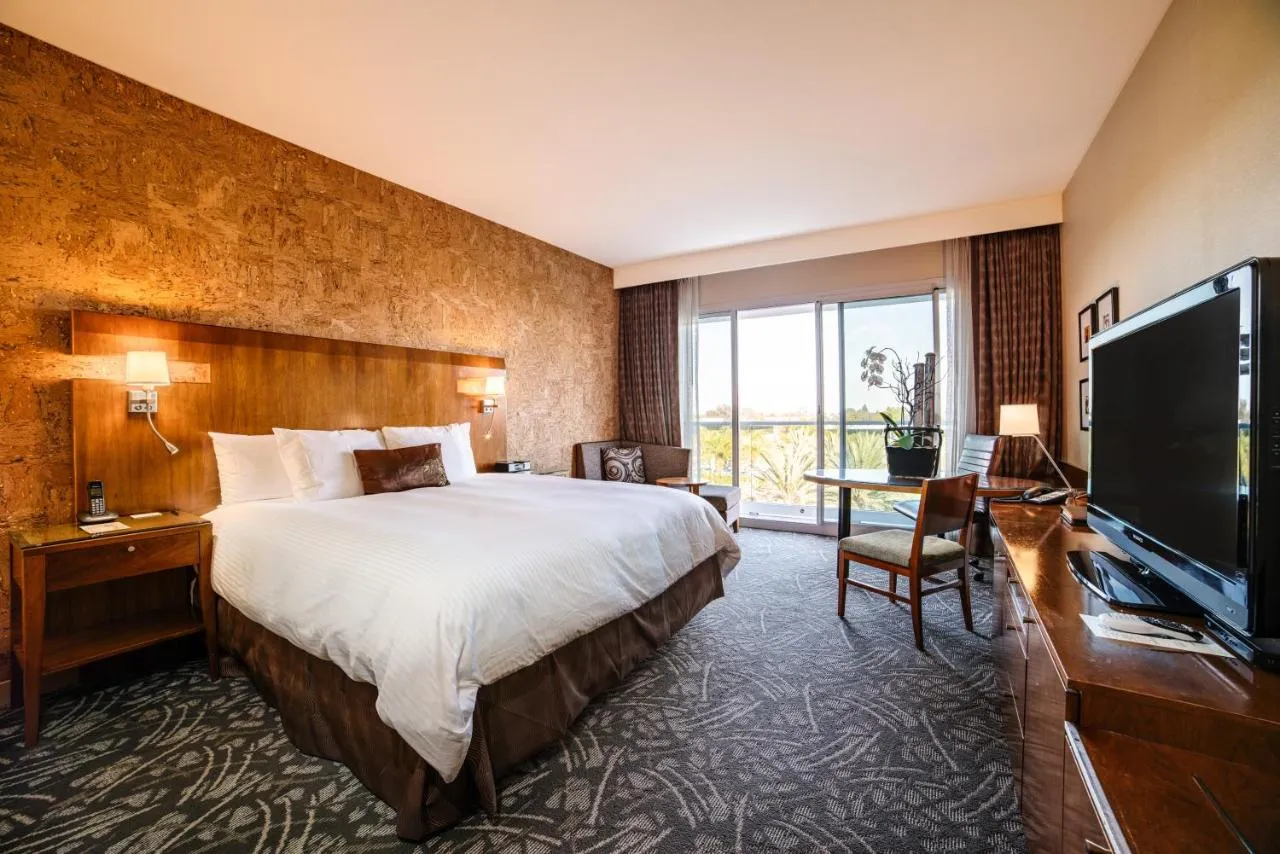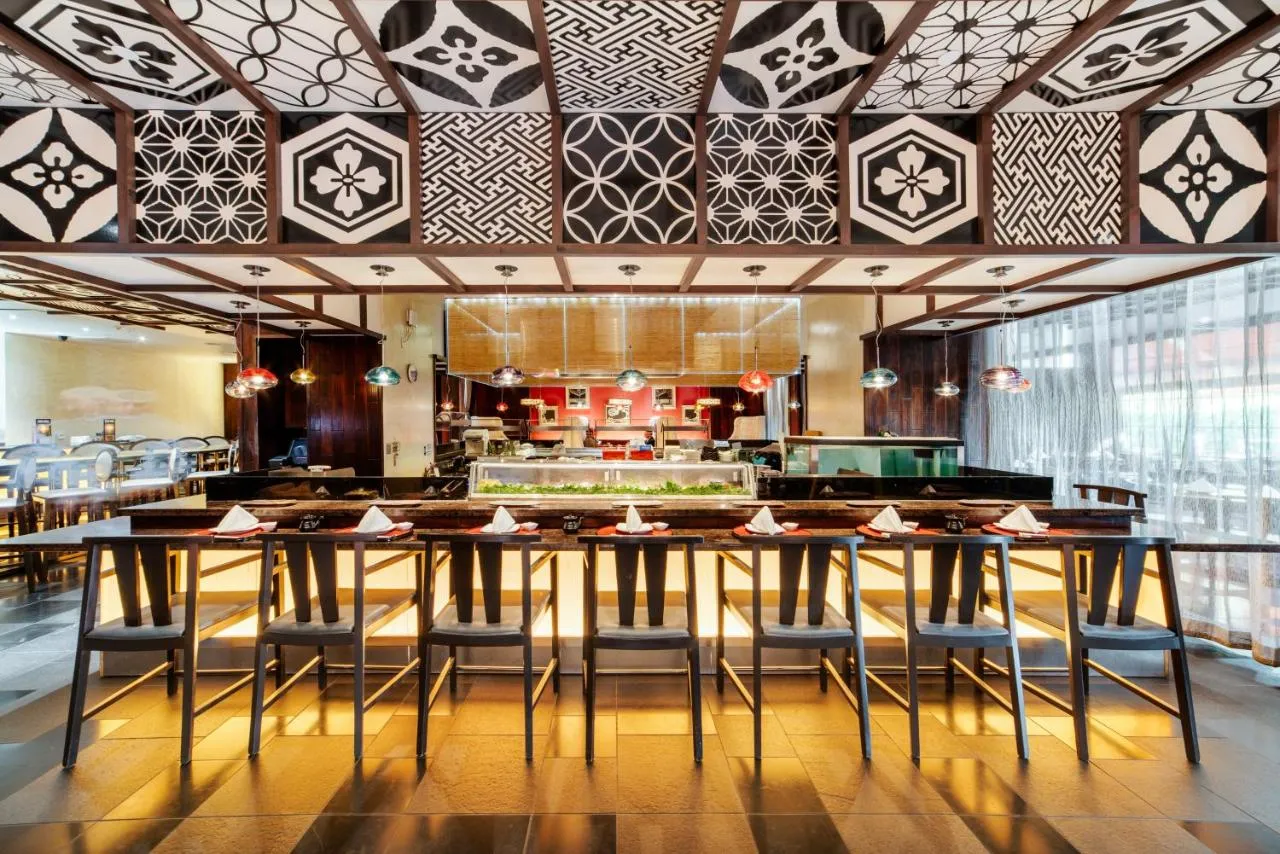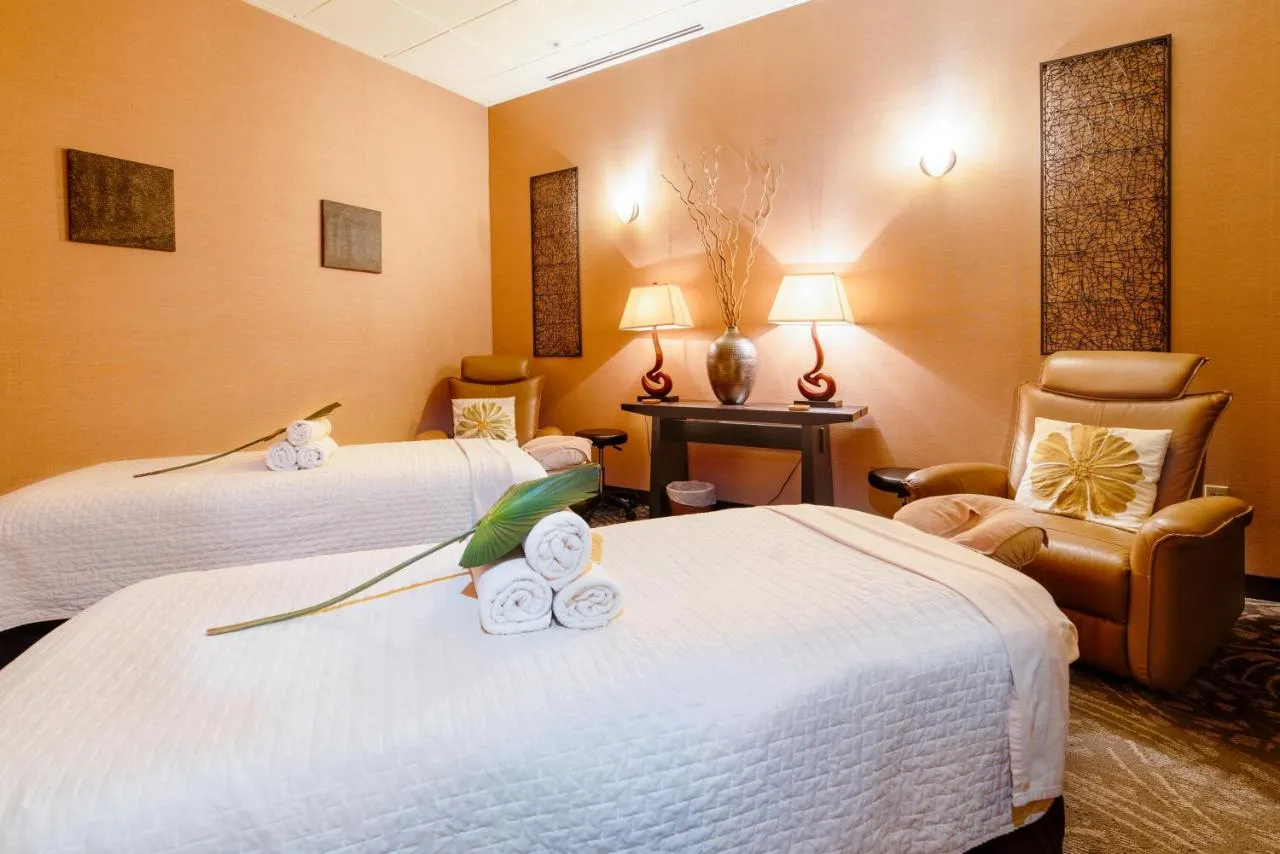 3. The Ritz-Carlton, Los Angeles
Los Angeles, CA 90015, United States
From $350 per night

ETIC Hotels Green Score: 9.5/10
What makes The Ritz-Carlton Los Angeles sustainable?
We have deployed a global program to calculate carbon footprint, water footprint, waste diversion, and energy intensity at our hotels and resorts around the world. All Ritz-Carlton Hotels are activated in the Green Hotels Global tool which provides information on environmental practices in categories such as energy, water and waste management, supply chain, environmental policies and certifications. This platform details and presents the environmental metrics and practices of each hotel in our portfolio. In addition:
We have implemented innovative systems that lesson the environmental impact and cost of our laundry operations by reducing the temperature and amount of water required in our laundry operations, also reducing CO2e emissions by reducing the energy requirement for laundry operations by 20%
All hotels in the Americas have installed sub-meters and weather-adjusted reporting for irrigation and cooling tower consumption
We work collaboratively with our U.S. waste and recycling partners to audit our waste streams, reduce the tonnage that must be transported to landfill, and divert waste from landfill through recycling and waste food composting.
We collaborate with Clean the World®, a nonprofit that collects partially used soaps and other hygiene amenities. The partially used soap is sanitized and distributed to communities in need around the world and the hygiene amenities are recycled for use in the production of fiber-optic cable.
We collaborate with our suppliers as part of our overall environmental strategy. Our focus in supply chain engagement is the development of innovative products and programs to deliver superior performance and meet our sustainability goals.
4. JW Marriott Hotel Los Angeles L.A. LIVE
900 W Olympic Blvd, Los Angeles, CA 90015, United States
From $220 per night

ETIC Hotels Green Score: 9.5/10
What makes JW Marriott Hotel Los Angeles sustainable?
The JW Marriott is the eighth hotel certified through the City of Los Angeles Green Lodging Program, which is part of the City's Green Business Certification Program. The certification by Green Seal verifies a hotel has met rigorous environmental requirements to reduce its operation's impact on the environment and human health. This includes waste minimization and reduction, recycling and energy efficiency, water conservation, indoor air quality, and purchasing products that are environmentally sound.
5. The Westin Bonaventure Hotel & Suites
404 S Figueroa St, Los Angeles, CA 90071, United States
From $150 per night

ETIC Hotels Green Score: 9.5/10
What makes The Westin Bonaventure sustainable?
In 2009, the Westin Bonaventure Hotel & Suites became the first Los Angeles hotel to receive Green Seal Silver Certification for its carbon footprint reduction, achieved with recycling programs, energy conservation and management, water conservation and more. The hotel invested $20,000 into its environmentally-friendly practices and saved an estimated $225,000 per year. The Bonaventure subsequently earned Gold Certification.
6. Le Meridien Delfina Santa Monica
530 Pico Blvd, Santa Monica, CA 90405, United States
From $230 per night

ETIC Hotels Green Score: 9.5/10
What makes Le Meridien Delfina Santa Monica sustainable?
This luxury hotel is the first on the west coast to pioneer the FDA approved electrolyzed water cleaning system reducing the purchase of cleaning products and associated plastic waste. The multi-purpose cleaning solution, made from electrolyzed tap water and salt, is refilled into dispensers by custodial staff for use facility-wide. Faucet aerators fitted in common area restroom hand sinks reduce water flow to 0.5 gallons per minute. The advanced PH conductivity controller installed in the cooling tower also recycles water. For energy efficiency, Le Meriden recently renovated the hotel facility-wide with LED lighting in common areas, parking garages and guest rooms, resulting in significant energy and cost savings. Retrofits include LED linear tubes.
Sustainable procurement ranges from toilet and facial tissue containing post-consumer recycled content. Le Meridien's comprehensive recycling programs range from co-mingled blue bin collection to composting pre-consumer food waste via the City's Restaurant Food Waste program. And to close the sustainable loop, every guest room is equipped with a recycling bin.
7. Ambrose Hotel
1255 20th St, Santa Monica, CA 90404, United States
From $320 per night

ETIC Hotels Green Score: 9.5/10
What makes Ambrose Hotel sustainable?
The Ambrose participated in Santa Monica's Sustainable Works Green Business Certification pilot program in 2005 and was awarded the Sustainable Quality Grand Prize Award by the City of Santa Monica in 2006. We have maintained third-party audited certifications since then, earning the City of Santa Monica Green Business Certification, the state of California's Green Lodging Program Certification, and TripAdvisor's Gold Green Leader Certification. In 2017, the City of Santa Monica and Santa Monica's Mayor Ted Winterer presented the hotel with a commendation for being one of the five pilot program participants of the city's Green Business Certification. The Ambrose Hotel team is passionate about implementing green practices in everything we do, and we are committed to protecting the environment and preserving the earth's precious natural resources for generations to come.
A guestroom recycling program is in place and 75% of all waste is recycled or composted. The hotel also has a linen and towel reuse program in place. A sustainable purchasing program has been implemented in an effort to reduce the impacts of pollution caused by virgin resource extraction and processing. All Ambrose team members are encouraged to reduce waste by reducing consumption of all disposable materials, composting all organic materials and fully utilizing all materials prior to their disposal.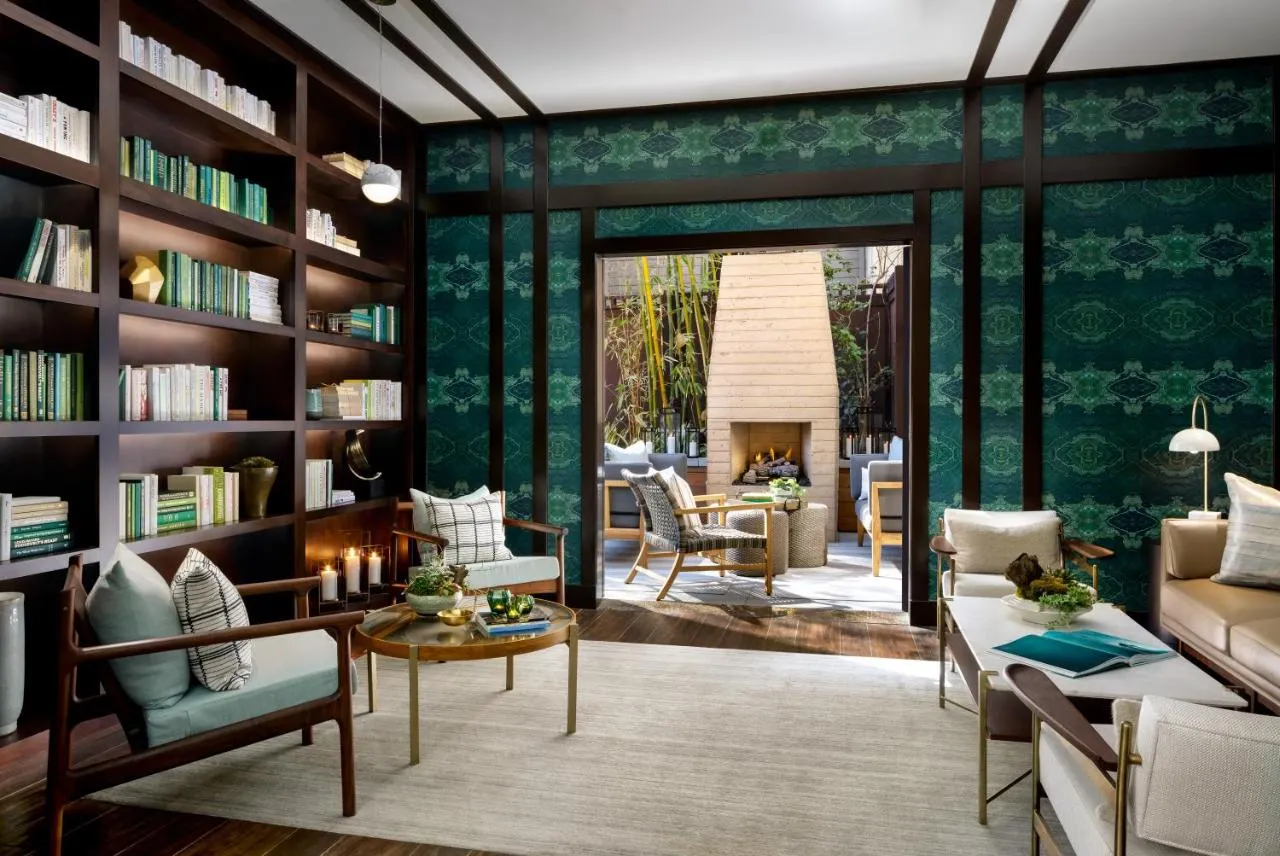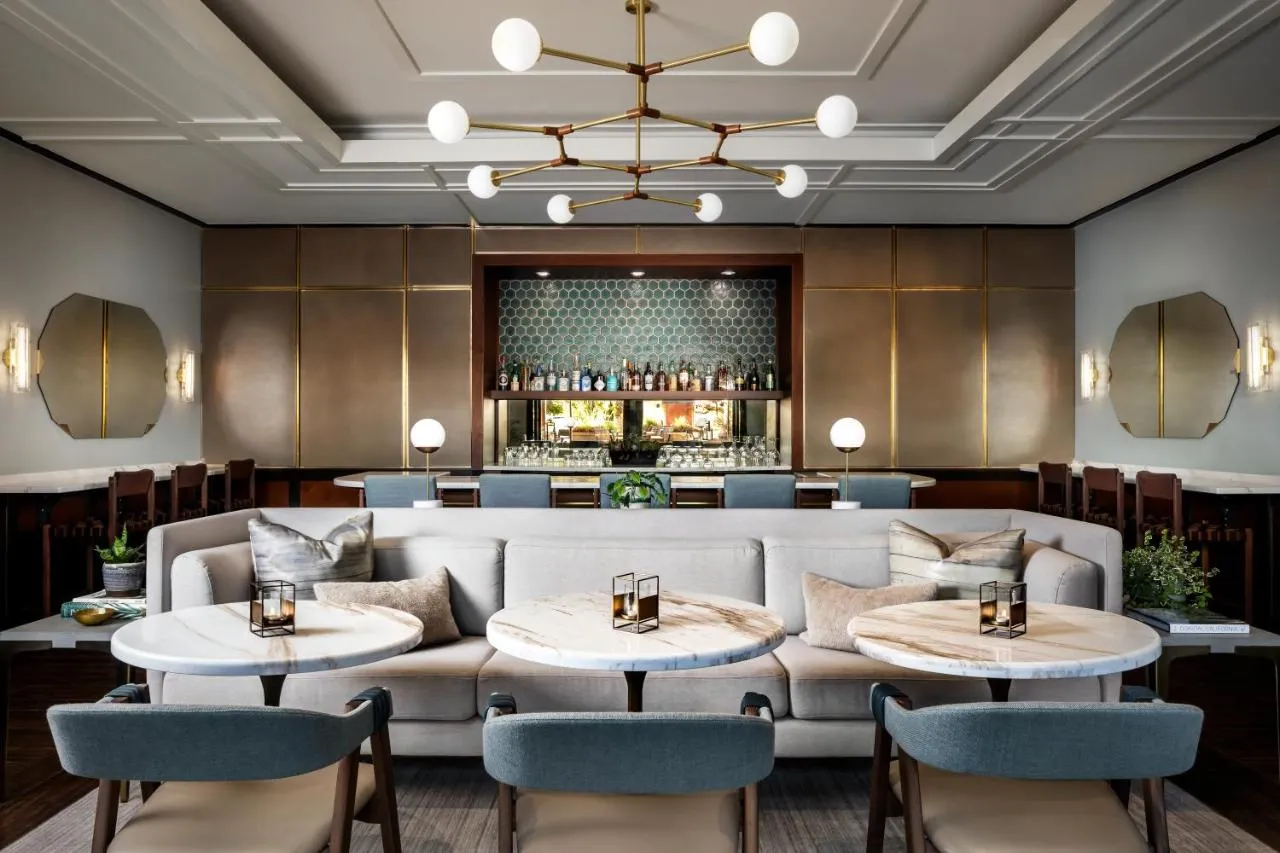 8. Sheraton Grand Los Angeles
711 S Hope St, Los Angeles, CA 90017, United States
From $200 per night

ETIC Hotels Green Score: 9.5/10
What makes Sheraton Grand Los Angeles sustainable?
The Sheraton Gateway Los Angeles Hotel received the Green Seal Silver Certification. Guests can participate in the Sheraton Make a Green Choice promotion, which features a $5 voucher at participating food and beverage outlets or 500 Starwood Preferred Guest Starpoints® awarded at check out for each night that housekeeping services are declined. Sustainable practices include the use of non-phosphate, nontoxic, biodegradable cleaning products.
9. Four Seasons Hotel Los Angeles at Beverly Hills
300 Doheny Dr, Los Angeles, CA 90048, United States
From $600 per night

ETIC Hotels Green Score: 9.5/10
What makes Four Seasons Hotel Los Angeles at Beverly Hills sustainable?
Reduce. Reuse. Recycle. At Beverly Wilshire, A Four Seasons Hotel, employees and guests join forces to preserve and protect the planet by engaging in the following sustainable practices that conserve natural resources and reduce environmental impact:
The Hotel proudly offers guests recyclable, paperboard water cartons.
Beverly Wilshire, A Four Seasons Hotel participates in a single-stream, commingled recycling.
The "opt in" program allows guests to choose when a full refresh of linens and towels are desired in the guest rooms.
Eco-friendly chemicals are used in the dry cleaning process.
THEBlvd Restaurant utilises the freshest produce, meats and fish from indigenous farms and markets supporting the local community and a healthy lifestyle.
Beverly Wilshire, A Four Seasons Hotel not only no longer uses plastic straws, but also has switched to using plastic-free to-go packaging.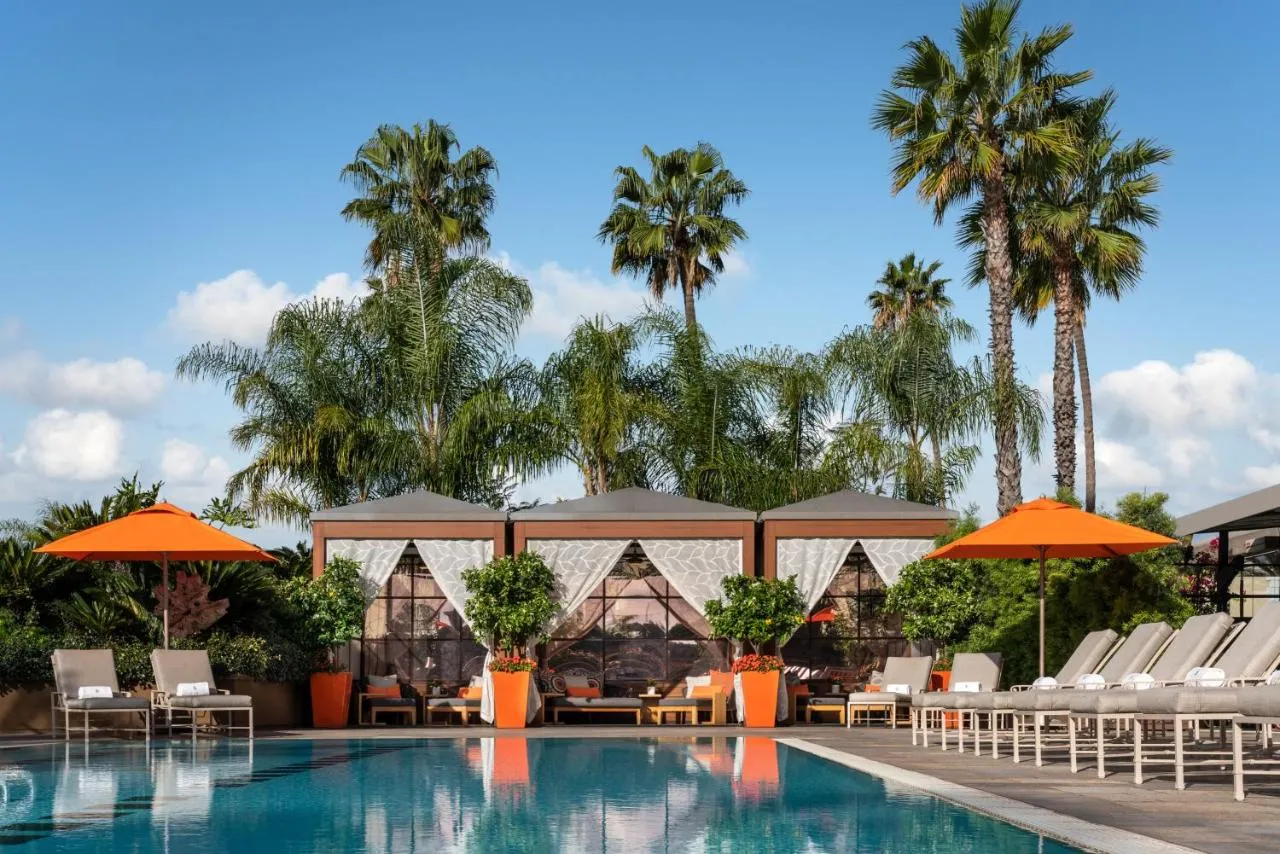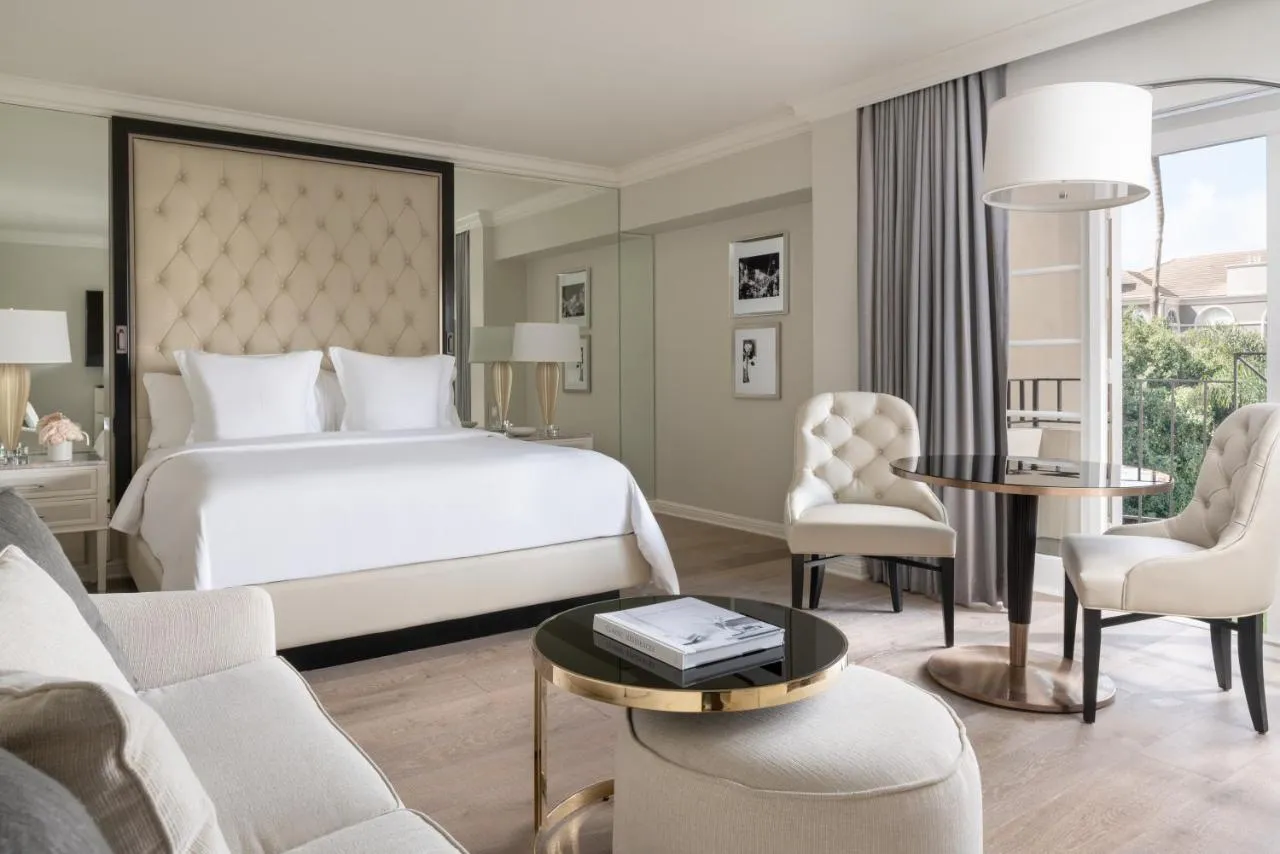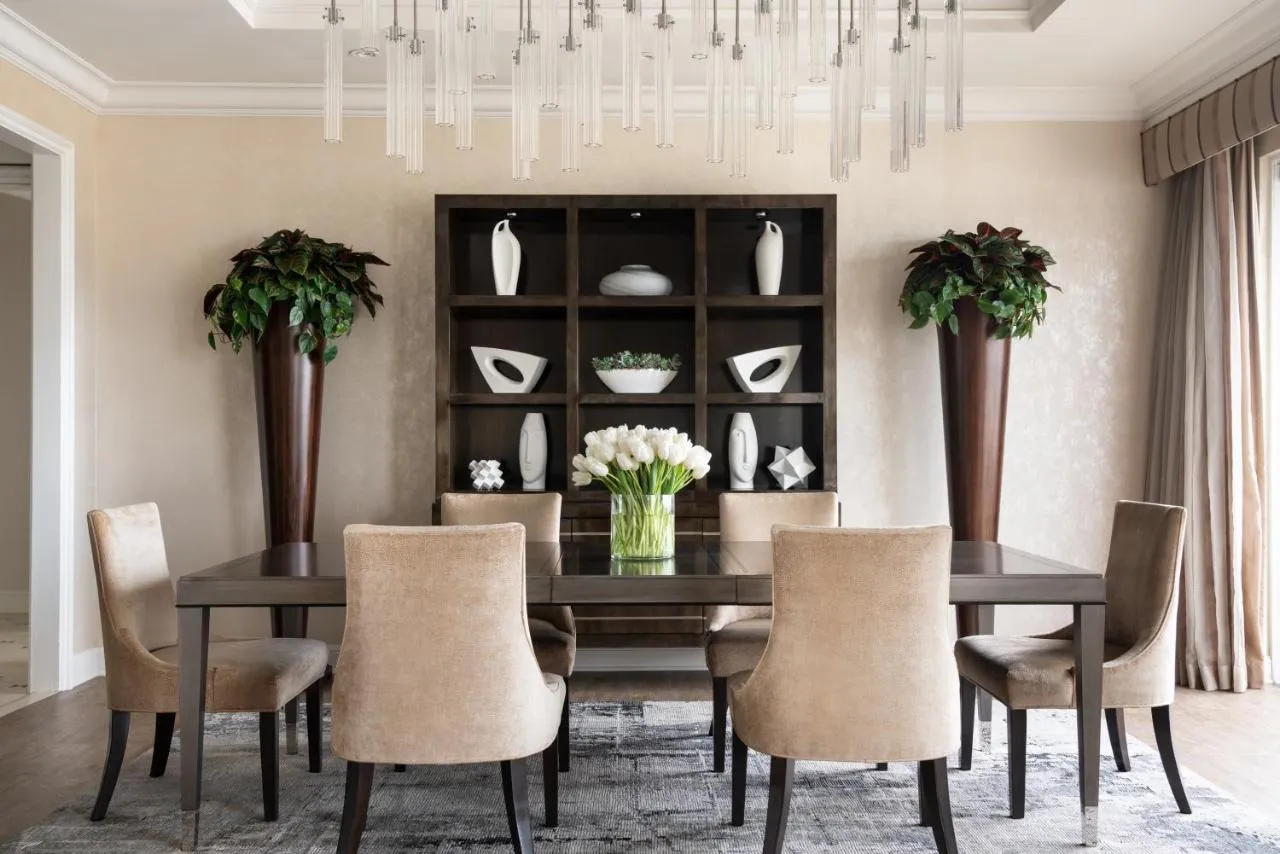 10. Fairmont Miramar Hotel & Bungalow
101 Wilshire Blvd, Santa Monica, CA 90401, United States
From $450 per night

ETIC Hotels Green Score: 9.5/10
What makes Fairmont Miramar Hotel & Bungalow sustainable?
For more than 25 years, Fairmont has been an environmental leader among eco-friendly hotels. As one of the first luxury hotel brands to achieve emission reduction targets, we embrace the Planet 21 initiatives developed by Accor. Caring for our planet means being proactive stewards of our environment. Fairmont Hotels & Resorts recognizes climate change as a global issue we all must address. We have committed to four environmental priorities:
Reduce our consumption of energy
Reduce water consumption
Reduce the amount of waste we generate
Reduce our greenhouse gas emissions
Our colleagues embrace sustainable practices designed to reduce and lessen the impact of greenhouse gas (GHG) emissions on a local and global scale. Each hotel monitors, measures, and reports on their GHG emissions. This is one reason why we embrace technology and actively seek to change ingrained behaviors. Our efforts are focused on diverting waste from landfills, recycling, and donating or selling used cooking oil and grease to be turned into biodiesel. Together, each action contributes to a healthier environment for future generations.